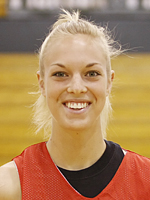 Taylor Greenfield
Guard
CLASS: 2011
Huxley, IA

Hometown

Ballard Community

High School
31

Overall Rank

7

Position Rank
ESPN Player Evaluations
USA U17 Trials-June 10: The maturation of both her physical build and basketball skills is allowing this 6-2 Huxley, Iowa, product to be an impact player anytime she takes the floor. The added size is an asset in her ability to hold her ground and attack effectively in traffic. She's less influenced by the physical game now and even initiates some contact of her own on penetration. At the same time, there are moments that the additional mass gives the appearance of making her a half-step slow on the perimeter. Make no mistake -- she's fit, well conditioned and very much proportionate for her size. Her skill-set makes her well suited for the perimeter but there will be some quicker matchups that will challenge her at times. With the ball in her hands, Greenfield utilizes well-honed ballhandling and sharp vision to make the most of both scoring and passing opportunities. Her first step is deceptively explosive and creates some space for her to go to work. The perimeter shot is a bit off her shoulder and by her head on the spot up but seems less of an issue on quicker releases and pull ups. (Lewis)

USJN Cincy-July 09: Impressive peimeter skills combined with good size. Sees the floor and has the ability to read defenses and make the smart pass. Seems to be attacking more than in the past ansd is looking for her own opportunites more often. Her first step is improving and getting her past defenders more and more often. Still has a tendency to play very upright but her size allows her to get away with it at the high school level.

USA U16 Trials-May 09: Iowa-native Taylor Greenfield stands 6-3 and has a lot of potential on the wing. She has the speed to fill the lane, quickness to penetrate off the dribble and the length to extend to the rim. However, in this setting the physical nature didn't allow her to show quite as well as she normally would. That's no knock on her ability because she did some nice things throughout the four-day trials. She hit more jumpers than expected and by the later sessions she adjusted to the style of play.

Nike Regional Skills - May 09: Almost every coach dreams of having the kind of player who could play virtually every position on the floor. Iowa native and Ballard High School standout Taylor Greenfield could well fit the bill for that task. Measured at 6-3, she has the size to play in the post, but you wouldn't be getting her best down low. She's naturally at home on the perimeter and has the skills and decision-making ability to play any of the three spots. Her smart play makes her most effective with the ball in her hands and whether that's in transition or the half court, good things usually are going to happen. Greenfield has impressive vision and reads the floor leading to good choices on both the pass and shot. More consistency will have to come to her perimeter shooting to make her a more complete threat and additional strength will be an asset as defenders try to get physical with her.
Notes
Club Team All Iowa Attack

First team all state, 2010