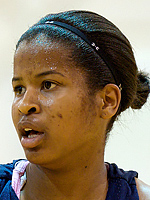 Ka'lia Johnson
Point Guard
CLASS: 2011
Chester, VA

Hometown

Thomas Dale

High School
82

Overall Rank

16

Position Rank
ESPN Player Evaluations
Nike Nationals-July 10: Lots of one on one opportunities were there for her as a result of an attacking attitude and a good first step. Finishing was a different story in traffic as some of her looks seemed to get an unneeded difficulty factor. More consistent production in a versatile offensive attack will make both her and her teammates bigger threats on the floor. (Lewis)

USJN DC-July 10: Impressive individual skills. When she's on her game she's sharp, when she's not, things don't go so well. Her ability to create at times gets her past the toughest of defenders but her shot selection and decision making don't keep pace. The tools are all there but she plays at times like she's trying to prove something. When she lets the game come to her good things happen. (Lewis)

Nike Regional Skills-May 10: Making better and better decisions with the ball. Her strength at the guard position and willingness to defend has never been an issue but as she balances scoring with distributing her stock as a point guard will rise. It's the toughest position to play and arguable the most important so seeing progress on the mental part of the game is all positive.

Boo Williams-April 10: Athletic, strong and aggressive. She has the ability to create off the dribble but still struggles with shot selection at times as well as using on her left hand. Still creates opportunities and could be a more effective offensive with better choices. At the other end of the floor her defensive effort was critical in her team's success in the final. Potentially could be one of the top stoppers in the class.

USA U16 Trials-May 09: Ka'lia Johnson of Chester, Va., was a great combination of athleticism and toughness. She showed the quickness to keep up with just about anyone. Her defense is ahead of her offense at this point in her career. The Duke-commit showed some dribble penetration ability in spots. She shot the ball from 3-point range but, like many who come to the Training Center, couldn't find her consistency. Defensively when she does get beat or if she slides over to help and has to foul, she gets her money's worth, not in a cheap shot way but she certainly knows not to let the player get a clean look after the foul for the and-one.
Notes
Club Team: Boo Williams Elite

Father, Ben Davis, was a McDonald's All American (1991) and played at the University of Arizona.

Athletics: Varsity Starter & Letterwinner as Freshman. ... 2010 IBCA Indiana All-State - Underclassmen HM. ...2010 Times All-Hamilton County Team 2010 Hoosier Crossroads All-Conference - HM. ...2010 Indiana Top 100 Underclassmen Showcase. ...2009 ESPN/HoopGurlz Class of 2013 Top 100 Watch List. ...2009 & 2010 NIKE Skills Academy. Averaged 9.1 ppg, 7.2 rpg, 1.4 apg, 1.3 bpg while shooting 48 percent from the floor as a freshman...2008 11U AAU Div. I National Runner-Up. ...2008 USJN BOP Midwest All-Star Team.

Academics: First HS Semester GPA: 3.1, National Junior Honor Society, Honors Level Classes. Career/Degree Interest -- Pre-Med or Pharmacy.