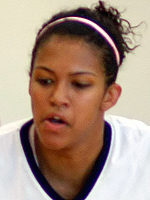 Morgan Jones
Forward
CLASS: 2011
Altamonte Springs, FL

Hometown

Lake Mary

High School
9

Overall Rank

3

Position Rank
ESPN Player Evaluations
Peach State-July 10: Jones continues to demonstrate the depth of skills that makes her the envy of countless college programs. Her combination of size, athleticism and perimeter skills make her an asset on any roster and matchup challenge for any opponent. The 6-foot-2 guard from Altamonte Springs, Fla., seems to be evolving into an even smoother and more fluid ballhandler and passer, making her that much more difficult to read and contain. She's making decisions quicker and isn't hesitant to give up the ball to a teammate with a better look. In transition she's at her best with the ball in her hands but gets out in the lanes without it and reveals some surprising speed. In the halfcourt she appears more intent on attacking and slashing into the paint and has become much more reliable with her pull-up jumper. At times her size and defensive matchup still takes her to the block where she can both create and finish. Defensively she took a few more chances than usual and ended up out of position a bit but is still a formidable stopper when she stays in her stance and digs in. Jones, currently ranked No. 11 in the 2011 class by ESPN HoopGurlz, may well be one of the more versatile players in the class. (Lewis)

USA U17 Trials-June 10: Working out with the U18 group, Jones had moments that demonstrated why she's so well suited for the game at the next level. At the same time it was the "moments" aspect of her play that let the Altamonte Springs, Fla., native be less-than-effective at times. It's not that she ever actually played poorly, but there were times where she wasn't in the mix or seemed content to let others lead the way. When asserting herself, Jones' play can easily be characterized as strong and attacking. The 6-2 wing has the ballhandling and passing skills of a guard as well as the ability to operate effectively on either side of the floor. Though somewhat upright at times she's more than comfortable with the ball in her hands on the break or driving in a halfcourt set. Her perimeter shot has a unique two-hand release but finds its way to the nets on more occasions than not. Her defense is active and well thought but will have to become more physical down the road. (Lewis)

Chicago Fall-Oct. 09: Morgan Jones is certainly no secret and the ESPN HoopGurlz Super 60 18th-ranked guard is making a bid to climb higher among her peers. Jones calls Florida home but has some family roots back in Illinois and spent the weekend in a Chicago Hoops Express uniform rather than her usual Debo attire while playing at both events. Her ball-handling ability seems to be evolving into a threat not only on the break but in the halfcourt as well. Questionably listed at 6-3, she spent time at both the point and off guard spots and made an impact on the drive, from the perimeter and with the pass. Occasionally she'll tend to settle for the jumper rather than attacking, but her touch still helps her find results. Defensively her size allows her to corral smaller and quicker guards and she's a major rebounding asset from the guard spot. Her continual improvement makes her a steal despite her already well established reputation.

Nike Regional Skills Academy-April 09: The wing position at the college level has been an evolving position over the last few years and Morgan Jones may fit the latest definition to a tee. She's got good size at 6-1 and solid athletic skills that give her both strength and speed. In transition may be where she's at her best with the ability to handle the ball in the open court as well as a willingness to get out and fill the lanes. The Altamonte Springs, Fla., native is sound from the perimeter and she has the moves to create her own shot in half-court sets but ballhandling here could be sharper. She's willing to mix it up defensively and is usually a factor on the boards. Effort is never an issue.
Notes
Club Team: DEBO

Central Florida player of the year, 2010

Recruiting update, June 9, 2010 -- Jones says her recruitment is still open, but that she wants to play in the Midwest. Should she stay in Florida, she will probably go to Florida State, where she has taken an unofficial visit. Has also taken an unofficial to Northwestern.