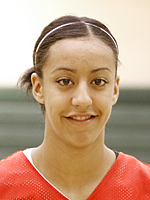 Brianna Kiesel
Point Guard
CLASS: 2011
Utica, NY

Hometown

Proctor

High School
58

Overall Rank

13

Position Rank
ESPN Player Evaluations
Battle For The Boro-July 10: Impressive individual skills with deceiving athleticism. All of her movement is smooth and fluid and best of all, for a reason. She's got the range to knock down the three but has an aggressive penetrating attack that leads to lay ups and pull ups. Her court vision is sharp and leads to more than her share of assists. Defensively she's strong on the ball and anticipates well on the weakside. (Lewis)

Derby Classic-July 10: She looked good coming back from an injury, her first step is stil quick. She has the ability to score off-the-dribble and the footwork on her jump shot is good. (Bodine)

Showtime Nationals-July 09: A very quick guard; likes to play and is best in the open court; good speed.
Notes
Club Team: Albany City Rocks

As of Aug. 24, 2010, also considering Virginia Tech.