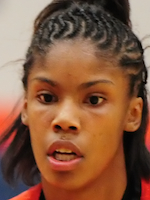 Janee Thompson
Point Guard
CLASS: 2012
Chicago, IL

Hometown

Whitney Young

High School
36

Overall Rank

6

Position Rank
ESPN Player Evaluations
Deep South Classic-April 11: Cat quick with ability to finish in traffic, excellent passer, great ball control, good on-ball defender. (Beverly)

Nike Extravaganza-Feb. 10: It requires a lot of faith, on the part of both player and coach, to bring one of a team's best players off the bench, which is what Whitney Young's Corry Irvin does with her super-soph guard. Much like her junior teammate, Johnson, Thompson has an array of 'freezer' dribble moves, including an imperceptible-at-normal-speed crossover. She also is one of the best we've ever seen at exploding laterally out of a hesitation move so effective, she sometimes can walk into a cleared-out, free-throw lane. Like many of her teammates, Thompson is such a speed merchant that she offers the illusion at 5-5 of playing much bigger than her listed height. She may not start games, but she certainly finishes them. Whitney Young, in fact, employs her as much as a calming influence as for a jolt into overdrive.

Showtime Nationals-July 09: small point guard with a very creative game; fun to watch; great ball-handling skills; penetrator; finds the open teammate; exceptional vision and passer; shifty.

Midwest Showdown-May 09: Illinois Lady Fire guard Janee Thompson is one of those players who can contort her body in the air to navigate through traffic yet maintain enough balance to get a good shot up to the basket. She attacks the basket with a relentless style and a host of creative dribble drive moves. She has tight handle which is complemented by a shiftiness that can lock a defender in her place and set up a counter-dribble. With all that in mind it is her first step that is most impressive. As she gets stronger she will probably do less of the contortion act in the air and draw the contact for and-one opportunities.
Notes
Club Team: Lady Fire