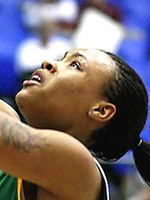 Danielle Ballard
Guard
CLASS: 2012
Memphis, TN

Hometown

Memphis Central

High School
25

Overall Rank

7

Position Rank
ESPN Player Evaluations
EBA All American Camp-Sept. 11: Ballard was on able to make one session, but she sure made an impression. She was explosive with the ball, has become a consistent threat from 3-point range and continues to show improvement in setting up teammates with the pass. She was one of the handful of players who could carry a team for a game. She has the ability to fill it up in huge waves and change a game. She showed good anticipation skills and converted several steals. She definitely reminded people that she could be one of the special, impact players in the class when she's focused. (Hansen)

Nike TOC-Dec. 10: In limited playing time she did not have one of her better performances. Ballard appeared to be waiting for things to happen for her rather than creating her own opportunities as she's very capable of. She still had moments that reminds you that she's potentially one of the premier point guards in the class but the inconsistency in her play seems to be becoming more of a constant. At her best she can play with almost anyone but her off days raise a lot more than a red flag. (Lewis)

USA U17 Trials-June 10: In order to position yourself to make such a high-profile team, the one thing that you cannot be is passive. The Memphis native took that approach early and found herself in catch-up mode throughout the trials. The lefty penetrator has a lot of talent but was unwilling to unleash her full array until too late in the trials and then forced things. Blessed with good quickness and very crafty ballhandling ability, Ballard seemed to play it safe and become a station-to- station maneuver of the ball as opposed to a whirling playmaker. She takes good care of the basketball and rarely turns it over. But in this environment, playmaking ability to turnover ratio is the great gauge; And Ballard was reluctant to make enough plays. (Powell)

Deep South Classic-April 10: Smooth lefty, with a a beautiful release on her jump shot. Very polished plays effortlessly. Excellent defender with active hands.

Turkey Jamm-Nov. 09: Physically Ballard has the whole package to combine with very advanced skills for her age. She's confident and in command of the court at the point. Her explosive attack gets her past defenders and her decision making is continually improving. The left-hander has good form from deep as well as a pull-up to utilize when helpside rotates. She'll have to work on the mental aspects of her game, including her maturity and emotional control on the floor. As a leader she'll have to stay more focused on the performance of her team rather than things that don't go her way. She's the only one who can really stop herself.

Derby Classic-July 09: Danielle Ballard burst onto the national scene during her freshman year at Memphis Central, helping her team to a 25-2 record and finishing No. 24 in the ESPN RISE Fab 50. Offensively she is one of the most gifted combo guards in the class. She has incredible body control and physical strength not usually found at her age. She is shifty and has a truly explosive first step. When she gets to the rim she can finish with either hand, as well. What's lacking is a passion for playing defense; with all her physical gifts she has the tools to be a lockdown defender and we know she has it in her because she showed it during the high school season. If she can keep the power switched flipped to "on," there are few people that will stop her.
Notes
Notes are not available.