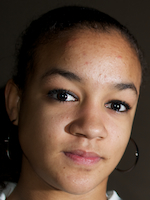 Andraya Carter
Point Guard
CLASS: 2012
Flowery Branch, GA

Hometown

Buford

High School
21

Overall Rank

4

Position Rank
ESPN Player Evaluations
All SE Invitational-Oct. 10: There may not be an athlete who demonstrates more fluidity as Carter does at full speed. In transition she has the ability at both the point and out in the lanes to challenge any defender. Her jumper is showing more and more consistency and it's hard not to notice the vertical she exhibits on her pull up. Defensively she has all the tools and the mentality to be one of the top defenders in the class and seems to be focused on advancing her game even more at that end of the floor. (Lewis)

USA U16 Trials-June 10: Easily one of the most impressive players competing for a spot at point guard on the U17 team is the 5-foot-9 Carter, from the 2012 class. The native of Flowery Branch, Ga., and Buford High School already has made a verbal commitment to Tennessee and wasted no time showing the selection committee here why the folks in Knoxville are excited about her. While being forced to sit out the majority of Wednesday's second workout after taking a shot to the nose and swallowing some blood, her performance so far should have her in the thick of things when decision time comes. In the first two sessions, Carter demonstrated a constant and consistent command of the floor, both in the halfcourt and transition. Her speed and athleticism puts her in a position to keep defenses on their heels while her ballhandling and passing exploits risk takers and rotations. Further keeping opposing matchups honest has been her ability to knock down perimeter looks from mid- and long-range. Wednesday morning's session saw her connect time and again with her jumper while still attacking off the dribble and creating both shots and passes. At the other end of the floor, she's been aggressive on the ball and anticipating with success on the weakside. Carter herself says she would like to "see myself attacking more while reading defenses and shooting the pull up more effectively." (Lewis)

Nike Regional Skills/Peach State Tourny-May 09: Way more athletic than previously given credit for. She makes everything look easy but she is among the highest risers in the class. Her bounce is a major impact in two areas, closing on passing lanes, especially skip passes which she can snatch out of the air, and on her jumper. She can get to a place in the lane that for most guards would be considered over-penetration, but because she has pogos for legs she can elevate and get a quality shot up. She has the charisma to be a leader in the locker room. She played in a tournament while at the Academy and showed flashes of being one of the top players in the class but down the stretch she just waited to long to try and take over. As a basketball player she may be too nice on the court. It's great that she makes her teammates better and gets them involved but she is also the team's best scorer and at times needs to impose her will; perhaps that is the next evolution in her game.

USA U16 Trials-May 09: Part of being a point guard is being a leader and a big part of leadership is having a positive attitude. Andraya Carter of Buford, Ga., has the mental part down. She gets on the floor for any and all loose balls. She gets knocked around a bit, which leads to her being on the deck more than she'd probably like, but she hops up with a smile each and every time. She is a fluid athlete and changes directions well, but against aggressive defenders she gets in trouble going east-to-west. As she gets older and stronger this will probably change. She shot the ball well in spots and this kid is one to watch over the next three years.

Nike Regional Skills Academy-April 09: Georgia's Andraya Carter has the tools to be effective at both the point and the shooting guard spots. The 5-9 Buford High School product has the versatility to score effectively herself or to set up her teammates with high percentage looks. Her lean build doesn't keep her from making plays and scrapping with anyone out there. She handles the ball well but is just as effective without it in her hands on the cut. Her jumper is just that, a true jump shot with good elevation. Beyond her fundamentally sound game and impressive athletic skills is a relentless effort and focus on every possession.
Notes
Notes are not available.