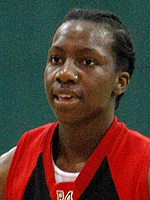 Syessence Davis
Guard
CLASS: 2011
Neptune, NJ

Hometown

Neptune

High School
51

Overall Rank

14

Position Rank
ESPN Player Evaluations
Nike Nationals-July 10: Davis of Neptune, N.J., suffered an ankle injury late in her high school season that had nagged her when she returned to action. It appears she is back at full tilt and many opponents at the Nike Nationals will second the notion. In leading her team to a second place finish in the 16U Silver Division, Davis proved one thing -- when healthy there may not be a better finishing guard in the class. Her ability to make the most difficult of shots was uncanny. It seemed that the more difficult the execution the more comfortable the delivery. Although we would consider the 5-8 Davis a bit of an undersized guard, her abilities are rare and toughness is undeniable. She will need to improve her outside shooting as a good defense could confine her to perimeter shooting.

USJN DC-July 10: Looked to be attacking more off the drive and trying to create her own shots. As always, got out in transition and ran the lanes like an Olympic sprinter. Her mentality keeps her attacking and playing along side teammate Richardson finds her on the receiving end of a lot of opportunities. Despite always being a physical defender she seemed even more intent on intimidating opponents and she was more than successful. (Lewis)

Battle in the Boro-July 10: Explosive guard who is constantly on the attack at both ends of the floor. Can handle the ball on the break and in the halfcourt but plays the #2 with Richardson in the same backcourt. One on one ability allows her to create her own looks and her penetration leads to scoring opportunities for both her teammates as well as herself. The pull up is a legitimate weapon but the perimeter consistency seems to come and go a bit. Aggressive defender who can be a nightmare for opposing point guards. (Lewis)

Boo Williams-April 10: Strong, explosive and quick. Penetrates virtually at will and forces defensive rotations that are sometimes late. The pull up is there but she often gets to the rim and has no trouble among the opposing bigs. What makes her an even more challenging match up is the range that forces tight close outs. She may best be suited for the point but has the skills to be just as effective as an off guard. Defensively her footspeed puts her in the position to turn ballhandlers multiple times and her hands are weapons by themselves.

Boo Williams-April 09: Syessence Davis has that cut, athletic look that tells you something exciting is about to happen. The Jersey Shore Diamonds point guard is strong, quick, aggressive and makes things happen. She penetrates again and again and, despite standing only 5-6, has an uncanny ability to finish in traffic. Her ballhandling is sharp and her passing skills have a snap that takes advantage of defensive lapses from opponents. A consistent outside touch will be important to keep defenders closing out tight and allowing her to attack.
Notes
Club Team: Jersey Shore Diamonds

First team all-state, 2010