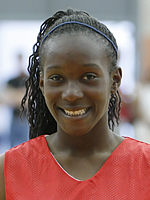 Maya Hood
Forward
CLASS: 2012
La Jolla, CA

Hometown

La Jolla Country Day School

High School
—

Overall Rank

68

Position Rank
ESPN Player Evaluations
EOT-July 11: Showed great anticipation skills both in the team's press and shooting passing lanes in the halfcourt. Gets a lot of her scoring from transition but also is an active slasher from the high post. The question for the college level is if she can function as 4 player as she has played that almost exclusively and isn't as polished with perimeter skills as some others in the class. She's one of those players that just stays active and makes plays even if she doesn't have a true position. (Hansen)

Deep South Classic-April 11: Playing a smarter and more mature game. Was a factor consistently both in the halfcourt and on the break. Scored effectively off the drive as well as on the pull up and deep jumper. She's more and more efficient at creating her own look and utilizes an explosive first step to initiate her attack. The added depth to her game is making her commodity. (Lewis)

Nike TOC-Dec. 10: Lean, athletic guard who has some moments. The ballhandling and attack are there but the consistency is not yet. Had moments on the defensive end as well and could be a legitimate stopper if she made it a focus. Lots of tools and potential if she wants. (Lewis)

Nike Skills-May '10: Strong guard who defends aggressively. Good quickness. Shot seems to be a question mark.

Nike Extravaganza-Feb. 10: There are two big reasons why you likely will see La Jolla Country Day emerge next year among the high-school powers even though it is missing a major presence in the middle -- the Hood twins. They both may be only 5-10, but they have oodles of athleticism and Maya has the thickness and strength to neutralize players several inches taller. Malina is rangier and has more of a wing-guard game with better handles and a little more range on her shot. Maya gets a lot of her offense by mining the passing lanes on defense for breakaway layups, though she otherwise has a tendency you don't often see -- jogging back on offense -- and has the gait of someone with painful knees. The two often feed off each other's energy and get into athletic feeding frenzies that give the Torreys a dimension that's difficult to prepare for.

Nike Skills-May '09: Maya Hood of La Jolla Country Day is a tremendous athlete who has speed, speed and more speed. In the open court she can be a blur. She fills the lanes in transition with the best of them and really attacks the cup with a scorer's mentality. It is fair to use the word explosive with Hood. Where she needs to improve is harnessing her speed and playing in control in the half court. Her feet get moving so fast that some of the advanced footwork and pivot moves are a challenge. She hasn't needed these skills yet, but to reach her athletic potential she needs to continue putting the effort she did this weekend into those skills.

TOC Dec. 08: Hood is a lefty with good leaping ability. She is quick and attacks well on the break. Her jumper has a super high arc to it. Lots of potential and good size for the shooting guard position.
Notes

Club Team: Wiggins Waves

ESPN HoopGurlz Tip Sheet Mentions:
%u2022  Deep South--April 2011