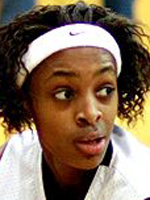 Hasina Muhammad
Guard
CLASS: 2011
Memphis, TN

Hometown

Ridgeway

High School
66

Overall Rank

16

Position Rank
ESPN Player Evaluations
Deep South-April 10: Memphis has produced its share of high -level perimeter performers and Muhammad seems to be staging her emergence on the national scene as such. The slightly built, 6-1 wing player is an acrobatic finisher around the cup and uses her length at both ends of the floor. She will need to add mass to her slight frame to continue her maturation as an elite player. Her shot has a considerable hitch and could use some refining, but overall a solid contributor due in large part to her ability to affect the game with her length and overall ball skills on the perimeter.

Braggin' Rights-Dec. 09: Even since Thanksgiving, the Ridgeway (Tenn.) High School junior seems to have advanced her game. Her presence and impact are constantly felt at both ends of the court. Offensively she gets into the paint time and again forcing defenders to rotate but often she get the shot off or pass made before help gets there. Several times her evaluation and reach demonstrated the fact that she's going to be one of those athletes who plays at or even above the rim. The jump shot at this point is still the major weakness she must pay attention to but it's hard to imagine many recruiters letting that get in their way. Defensively she may well be at her best. She constantly changes shots and throwing over her is a path best not taken. Her lateral footspeed will let her match up with smaller players making her that much more imposing. This is one prospect who may just be tapping into her potential.

Turkey Jamm-Nov. 09: Easily one of the more impressive performances over the two-day event was that of Ridgeway's 6-foot guard She continues to show the continual development and evolution of her game giving her legitimate claim to consideration among the 2011 class elite. With the ball in her hands she attacks the rim with smooth, fluid moves and navigates traffic with the best of them. The jumper is coming but still needs some fine tuning to make it a more consistent threat. What may well set her apart from others is the combination of her offensive game with a stifling defensive presence. Her size, reach and lateral speed make her a difficult defender to get around. Her anticipation and timing has her hands on both shots and passes time and again. Physically she's going to have to fill out and add some strength but then again her build seemed to work pretty well for former Auburn All-American DeWanna Bonner.

Showtime Nationals-July 09: A slender guard who is agile. Her ball-handling is okay but needs to improve for the next level. Right now she's more wing forward than shooting guard... now; Like most she has to get stronger but unlike most others she's very gifted player naturally.
Notes
Club Team: Memphis Elite Daniels