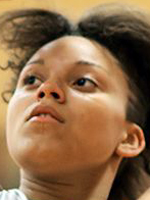 Sidney Cook
Forward
CLASS: 2012
Parkton, NC

Hometown

South View

High School
85

Overall Rank

17

Position Rank
ESPN Player Evaluations
Nike Nationals-July 10: The same tools and potential were on display in Augusta. Impressive size and athleticism demonstrate lots of potential. Defensively she gets after it and runs the floor well on the break and in transition defense. Offensively the consistency still comes and goes and there's a tendency to watch and take what comes her way rather than attack and develop her own opportunities. Time will tell since she's till only a junior. (Lewis)

Battle For The Boro-July 10: Cook continues the hot and cold play that make her difficult to evaluate. At times she's out running the floor, attacking the rim and boards and making plays. At others she's a not playing poorly but taking a backseat and watching her teammates. Can be effective in traffic and around the rim but inconsistent further from the hoop. Gives you the impression she can play the wing but not enough to completely sell you on the idea. (Lewis)

USA Trials-June '10: At Boo Williams in April, Cook frustrated many with an out of control style of play. Here at the trials she was a completely different player. She played under control while still utilizing her combination of size and speed. She worked really well within the offensive sets and transition, moving open spots on the floor, maintaining spacing and not forcing things. She finished trials really strong and if she could have knocked down a few more shots she very well could have been selected. All in all it was a very solid showing for this 6-2 Oklahoman. (Hansen)

Nike Skills-May '10: Smooth wing who has a nice mid-range game. Transitioning from a high-post 4 player.

Summer Showcase-July '09: Watch the Air Oklahoma Stars for just a few possessions and No. 23 will catch your eye. While college coaches frantically flip through their roster packets to find this headband-toting forward, Sidney Cook attacks from the high post and scores. Shortly thereafter you realize the 6-2 prospect from Oklahoma City just completed her freshman year of high school. She is long and has more muscle on her frame than most her age. She uses her body well before receiving the ball, making her perimeter teammates' jobs easier by providing a target and clear passing angles. She gets off the court with ease and has already developed a step-through for a post counter move.

Deep South Classic-April '09: Has good size and a sense of winning the leverage battle in the post. Needs work on positioning and basic post moves.
Notes
Club Team: Cy-Fair Shock

Played for the Air Oklahoma Stars previously. ... Invited to the USA Basketball U17 National Team trials, 2010.