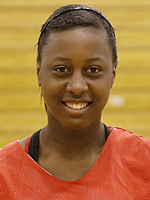 Tyonna Snow
Guard
CLASS: 2012
Blue Springs, MO

Hometown

Blue Springs

High School
—

Overall Rank

86

Position Rank
ESPN Player Evaluations
Deep South Classic-April 11: Aggressive on both ends. Scrappy and physical defender. Impressive vertical on rebounds and jump shot. When she chooses to play she is hard to guard because of strength and speed. (Gray)

Explosive athlete who's physically strong and got some size on the perimeter. With the ball in her hands she's effective with both the change of speed and change of direction leaving defenders standing. Her first step is exceptional and creates plenty of space for her to operate. She can finish at the rim but can count on an impressive pull up as well. Will take the ball off the glass herself and go coast to coast at every opportunity. Defensively makes plays but does take some chances. A go to player but conditioning took her out of some plays at times. (Lewis)

USJN Midwest-July 10: This hyper-athletic guard from Kansas City, Mo., is the type of player who instantly catches your eye when she is on the court. Snow has a quick first step and has no problem creating her own shot, especially when she is in transition. She can change directions with the ball in her hands and can stop on a dime to pull up for a jump shot. Snow is a pesky defender who likes to harass her opponents whether she is directly on the ball or in help side. She does a good job rebounding from the perimeter, as her speed and overall athleticism allow her to slip into gap and get to the glass over much taller players. (Bodine)

Showtime Nationals-July 09: very aggressve open court player; pressure defender; delivers a nice pass in transition; puts pressure on opponenets on both ends of the floor; can finish with the right and left.
Notes
Club Team: KC Select