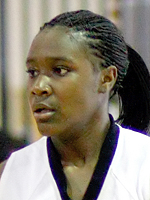 Shakena Richardson
Point Guard
CLASS: 2011
Neptune, NJ

Hometown

Neptune

High School
18

Overall Rank

4

Position Rank
ESPN Player Evaluations
USJN DC-July 10: Demonstrated once again why she's one of the premier point guards in the country. Took a lot more scoring responsibility on her shoulders in this event but didn't have her best perimeter shooting days. Still pushed the ball at every opportunity and maintained her attack in the halfcourt. Stepped it up on the defensive end where she already excels, particularly on ball. Nothing to prove but still playing like she does. (Lewis)

Battle in the Boro-July 10: Still demonstrating why she's one of the most prominent and effective point guards in the 2011 class. Despite her smaller size, her strength and explosiveness makes her the physical match up that nobody wants to defend. She's relentless in her attack off the break or in the halfcourt. While she's always been a legitimate three point threat she struggled with her consistency at this event but even her off days are still productive. Defensively she's bulldog that makes opponents want to give the ball up early. (Lewis)

Boo Williams-April 10: If you're looking for that point guard who can make something happen, you don't need to look much further than this 5-6 Neptune, N.J., native. With the ball in her hands there aren't many defenders who have a prayer of staying in front of her. She gets into the paint almost at will and does it with explosive speed and quickness. Change of speed and change of direction leave opponents standing and her ballhandling has that built-in hesitation that foolishly brings defenders out of their stance and lunging at the ball. Her vision on her penetration is exceptional and despite her small size, allows her to make sharp interior passes. She can finish in traffic and has a reliable pull up but at times will over commit and leave herself hung out to dry. Ironically, she often still finds a way to still make a play even after leaving her feet undecided. Defenders should think twice before "giving her" a step to take away penetration as she has both the stroke and the range to make them pay.


Notes
Club Team: Ring City