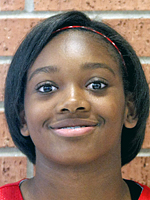 Courtney Walker
Wing
CLASS: 2012
Oklahoma City, OK

Hometown

Edmond Santa Fe

High School
32

Overall Rank

7

Position Rank
ESPN Player Evaluations
DFW March Fest-March 11: Texas A&M commit Courtney Walker is one of the more, if not the most, physical small forward prospects in the country. Walker, who stands 5-8, has an athleticism that is most apparent on the offensive boards, where she has the ability to be a major problem for defenses. Her desire to attack the glass and use her leaping ability to pull down key rebounds is impressive for a player of her size. On the offensive end she likes to attack defenders off of the dribble and get to the rim, using her upper-body strength to finish through contact and get to the charity stripe. Walker's overall activity level, as well as her athleticism, make her the kind of player who can make an impact on a basketball game without needing plays run for her to get shots inside of an offense. (Moore)

Nike Summer Showcase-July. 10: Athletic and quick point guard with impressive one on one skills. She can get to the rim but is just as effective on the pull up. Navigates traffic both on the break as well in halfcout sets. Active and aggressive defender who anticipates well on and off the ball. (Lewis)

Nike Skills-May '10: Likes to attack the basket, has the ability to blow by defenders, She finishes when she gets to the rim.

Basketball on the Bayou 2009: DFW Elite has three tremendous 2012 guard prospects and, of the three, Courtney Walker is the worker bee. At 5-8, she has good size and flies around the court. She also likes to roam on defense and create havoc. Walker, of Edmond, Okla., is a master at maneuvering through defenses for inside finishes, often acrobatic. She can score the ball with both hands, though her left is a little inconsistent. But, hey, she and her teammates are so good, you forget they're young and have plenty of time to shore up any deficiencies, however few, in their games. (Nelson)

Midwest Showdown-May 09: One of Jefferson's teammates on the DFW 2012 team, Courtney Walker, was impressive as well. The 5-8 guard from Edmond, Okla., is great in transition. She is a very good athlete and plays an attacking style that maximizes her physical gifts. She has a lot of shake in her game and she hit some tough pull-up jumpers in addition to getting to the rim. If she continues to develop, she could be a big-time prospect in this class.
Notes
Notes are not available.