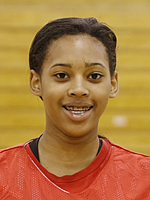 Destiny Brown
Guard
CLASS: 2012
Monroeville, PA

Hometown

Gateway

High School
—

Overall Rank

39

Position Rank
ESPN Player Evaluations
Boo Williams-April 11: Brown is back in her groove after playing a full high-school season. Her skill level continues to impress from passing to a sweet shooting stroke. She went on a nice scoring run and you could tell she was feeling it with the groove in scoring off the dribble. As a secondary scorer and a player than can make plays outside of scoring, she has a lot of value as a prospect. It's nice to see her recapturing some of her confidence. (Hansen)

Nike Summer Showcase-July. 10: Ever so slowly getting back into the swing of things. Obviously much stronger and physically mature but basketball skills and versatility need to catch up. Has flashes of dominance and moments revealing the potential seen previously. (Lewis)

Nike Skills, New Jersey - May 10:For all her fluidity, the 5-10 Brown plays a punishing style that would make her an interesting fit at the point. A hybrid guard, she has good handles and great finesse and vision on her passes. She also has a pretty shot with tight rotation, high release point and good range. She also has very good size and can sit on the boxes and score or dish -- making her a good candidate to pair with a finesse forward in an inverted two-person game. Her combination of speed, size and work ethic make her a factor on defense and around the glass as well.

Nike Nationals-July 09: All Ohio was definitely a perimeter-oriented team and one of the youngest players on the roster stood out among the rest. Destiny Brown offers a versatile and mature game for an athlete her age. A solid and athletic 5-10, she's physically strong and has an explosive first step. Since the spring, her one-on-one skills have become even more difficult for defenders to contend with and she can create her own shots almost at will. She also seems to be extending the range on her jumper, making her an even more challenging matchup. She'll need to become more active when she doesn't have the ball because she showed a tendency to watch her teammates. Off-ball movement was actually a strength previously and shouldn't be hard to regain as a weapon. Defensively, she's begun to play a more physical style and doesn't mind putting a body on opponents on the cut.

Flava Jam-July 09: Monroeville, Pa., native Destiny Brown crossed state lines to play for All Ohio and the sophomore-to-be is improving every tournament. Since Memorial Weekend the most notable change is her confidence on the offensive end. She is using her smooth athleticism to create shot opportunities and as she plays and matures she will figure out when to do it and when to keep moving the ball. Her basketball IQ seems to be well above average for players her age as she showed the ability to set up her defender for several backdoor cuts and reads the floor well.

Nike Skills, Indy -May 09:Destiny Brown, from Pennsylvania, is playing club ball with All-Ohio and stood out in Indiana this weekend. It appears the 5-9 guard from Gateway High School is constantly on the move and that may well be the best description for her game. She's active in the half court, both with and without the ball. Her cutting is at full speed and gets her looks off screens as well as basket cuts. The ballhandling is there and she used it more and more effectively as the event went on with some impressive drives in the final session. She has a smooth stroke and a nice touch on the ball though we didn't see her range. Her long arms and lateral speed on defense give her the tools to be the kind of stopper college coaches are looking for.
Notes
Club Team: All Ohio Black

Transferred from Gateway to Lake Ridge for her junior year (2010-2011).

Nike Regional Skills Academy, 2009, 2010. ... averaged 20.4 points per game as a freshman