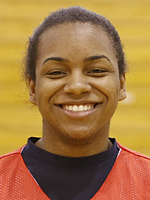 Ariel Massengale
Point Guard
CLASS: 2011
Bolingbrook, IL

Hometown

Bolingbrook

High School
4

Overall Rank

1

Position Rank
ESPN Player Evaluations
Nike TOC-Dec. 10: The skills and performance speak for themselves. For the most part defines point guard for the 2011 class but struggled against Mater Dei's press in the final TOC game. With the ball in her hands she's as effective as they come but Bolingbrook plays in a different gear if opponents can take her out of the equation. (Lewis)

Nike Nationals-July 10: Massengale may have done the best job of returning from USA Basketball and picking up where she left off. She shows time and again an ability to step onto the floor with almost any team and be a coach's dream at the point. She showed little effect from the overseas travel and kept the Flight in transition of both makes and misses. Her perimeter shot still keeps defenders honest and forces deep close outs. What really stood out in Augusta was the maturity and confidence with which she plays. Her floor leadership is highlighted by her decision making and composure. (Lewis)

FIBA U17-July 10: Any doubts of who the best true point guard in the class were put to rest during the World Championships. Massengale wasn't the quickest or tallest player at the position, nor did she show off an And-1 Mix Tape-esque handle. But she played smart basketball and delivered exactly what her team needed, when her team needed it. She finished with 43 assists against just 16 turnovers. When she needed to distribute she dished as well as anyone in the tournament. When she needed to knock down open jumpers, she ripped the net from 3-point range at a 50 percent clip. She was fourth on the team in scoring but exploded in the two biggest games of the tournament. She scored 22 points in the semifinal and 20 points in gold medal game, when it was clear the defense was going to double up on the posts and try and limit Kaleena Mosqueda-Lewis' open looks. She didn't need to score 20 points per game but when the circumstances called for it, she filled the void. She could have been a more imposing force on the ball defensively but that's really splitting hairs. (Hansen)

Wildcat Classic-May 10: There's not much left to say or write about the play this 5-6 point guard, now playing for the Tennessee Flight. What was worth noting over the weekend was her leadership and command of the floor. Ranked sixth in the 2011 class by ESPN HoopGurlz, Massengale has settled in and become comfortable not just with the ball in her hands but with her new teammates as well. She's more assertive and vocal than she was her first time out with the team during the April recruiting weekend. Even with substantial leads, she was still pushing the ball and but not letting play get ragged. At the defensive end she was active, aggressive and, again, vocal. While it's tempting to talk just about her play and ball skills, her intangibles are often what sets her apart from other point guards. (Lewis)

Braggin Rights-Dec. 09: Pushed the ball much, much more this event. Saw the floor and distributed it both in the halfcourt as well as in transition. Nailed the open jumpers when they presented themselves including a couple from long range. Turned up her on ball defense a notch and forced several turnovers that resulted in easy transition baskets.

Nike TOC-Dec. 09: Not her best performance but still in excess of any other point guard in her peer group. Normally strong and attacking, she played more reserved. Settled for shots that came her way rather than looking to create her own. Almost appeared a little thinner and less "cut" than she has previously.
Ariel demonstrated seasoned skill at pushing tempo and leading her team in transition. She made heady decisions with the ball, and kept teammates involved. She wasn%u2019t flashy, just a smart, hard nosed player who is a natural point guard in every facet. She will push the ball on any opportunity given. Ariel didn%u2019t look for her shot, but rather directed the offense and ensured the effectiveness of the team. Has another gear, we've seen it, just not quite as much this week.

Derby Classic-July 09: By now people know the name Ariel Massengale. She is ranked No. 5 in the ESPN HoopGurlz Terrific 25 and continues to get better. Without her sidekick Morgan Tuck in the paint (ACL injury), she has more scoring responsibility while being the focal point of the opposing defense. Where she shines is her basketball IQ -- she knows what the defense is doing and how to counter it. Some may knock her size but she is a big game player and the top point guard in the class.

USJN Cincy-July 09: Illinois Dream Team, Bolingbrook High School and USA Basketball 5-6 point guard Ariel Massengale inherited a little more burden to carry for the summer when teammate Morgan Tuck tore her ACL at the USA U16 try outs last month. As she has with every challenge, she stepped up and showed why she's one of the top point guards nationwide. On a team with virtually no inside game, she kept her teammates in transition and distributed the ball effectively with some impressive decision making. Her willingness to attack and ability to force opponents to rotate are the kind of things that set her apart from the crowd. Her shot is still there and lethal as ever, but seems secondary to creating the best look for her team on every possession.

USA U16 Trials-May 09: It didn't take long for Ariel Massengale of Bolingbrook, Ill., to assert herself as a leader on the court. She had the confidence to step in and be the point guard her team needed from the first tip. There were taller, quicker and faster players vying for point guard roster spots, but the 5-6 prospect was the most consistent and steady player of all. She passed the ball well in transition, ran her team, defended, and, perhaps most importantly, she shot the ball from 3-point range consistently. For a player that looks up to Renee Montgomery, she has some similar attributes early in her career.

Braggin Rights Jan. 09: Bolingbrook's Ariel Massengale may well be setting the standard for point guards in the 2011 class. The maturity of her game and the aggressive approach to every play are paying dividends for her and her Lady Raider teammates. The 5-7 floor leader is a threat every time she touches the ball and has the range to force defenses out of its comfort zone. An incredible first step gets her by opponents and opens up options that she fully takes advantage of. Her vocal leadership seems to be something that she's more and more comfortable with and that's a valuable asset to such a young and talented team.

TOC Dec. 08: College coaches may have trouble waiting on this one. Solid, strong and quick, she can create aggressively in transition or within an offensive set. Her 3-point range forces defenses to extend and she can knock down the true jumper off the dribble from 15 feet or more. More impressive is the attacking mentality to she brings to the floor. She creates both shots and passes that lead to big numbers on the Bolingbrook side of the scoreboard.

Fearless with the ball and has the ability to score after contact.
Notes
Club Team: Tenn. Flight

U17 USA National Team, 2010 ... Second team Parade All-American, 2010 ... First team all-state, 2010 ... U16 USA National Team, 2009

Recruiting update, August 18, 2010: Has schedule official visits to Duke, Kentucky and Tennessee, and expects to schedule one to Florida.