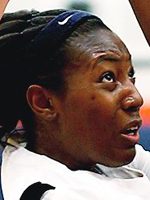 Danielle McCray
Forward
CLASS: 2011
West Palm Beach, FL

Hometown

Trinity Christian Academy

High School
85

Overall Rank

25

Position Rank
ESPN Player Evaluations
Nike Nationals-July 10: McCray's play all summer has been impressive and has shown constant improvement. Her work on the block has been consistent and reliable. She attacks with a smooth, fluid power and without hesitancy. Her form at the elbow is a little rough but she can knock it down. Defensively and on the boards she's a workhorse and seems to enjoy the physical game. (Lewis)

Battle of the Boro-July 10: While the Flight may have been missing some of their high profile firepower, they weren't short on standout play. This 6-0 forward from West Palm Beach, Fla., was impressive each time out, not only in her play but in her consistency. Both powerful and smooth, she provided a force both on the block and in the high post. On the catch McCray reads her defender well before attacking and utilizes counter moves with maturity. She has the ability to step out and shoot the short corner and demonstrated a deadly fall away jumper that would be difficult for anyone to defend. On the offensive boards, her instincts are sharp and led to a lot of second looks. Defensively, she's more than capable of holding her own against players with more size, and at the same time, can utilize her athleticism to match up with quicker small forwards. (Lewis)

Nike Regional Skills Academy-April 09: Danielle McCray may play single-A high school basketball at home in Florida but her game has the potential for the opposite end of the spectrum. The 6-0 athletic wing has the size, build and athleticism to get up and down the floor with almost any opponent. Her one-on-one skills allow her to create her own scoring opportunities as well as force defensive rotations leading to some impressive passing. Adding to that is her ability to shoot the short pull up as well from the 5- to 10-foot range. She's active defensively and has the potential to be a solid stopper. There will have to be a physical aspect added to her game but she plays with an aggressiveness that suggests that won't be a problem.
Notes
Club Team:Tennessee Flight