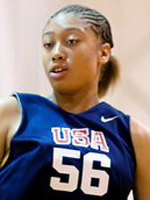 Alexis Prince
Wing
CLASS: 2012
Maitland, FL

Hometown

Edgewater

High School
16

Overall Rank

2

Position Rank
ESPN Player Evaluations
Nike Nationals-July 10: Definitely played a more active and aggressive game in Augusta. Showed some effective play without the ball in her hands not only on the break but off cuts in the halfcourt. Handles it well on the break but not as effectively in the tighter quarters of quickhitters. Appears to still be growing and that size combined with her fluid athleticism makes her a top tier prospect in anyone's book. (Lewis)

Nike Summer Showcase-July. 10: If you're looking for the "new age" perimeter player this is your best example. Combining size and athleticism with smooth, fluid play makes her a strong contributor at both ends. Her ballhandling and passing skills allow her to exploit bigger defenders while her size and physical skills take advantage of those of lesser physical stature. The biggest and most obvious speed bump in her game is a tremendous lack of consistency. When at her best she's on par with almost any player in the class. At other times it's not that she play poorly, but more that she has a tendency to disappear. (Lewis)

USA U17 Trials-June 10: Far from her worst performance but not exactly her best either is the best description of Prince's performance. That is important because her best ball could easily have put her on the squad. The 6-2 wing fits the mold of the length and versatility that comprises the U17 roster. She had some great moments but needed to show more of that sweet shooting stroke and a more consistent effort. (Hansen)

Nike Regional Skills-May 10: Smooth and unflappable, Prince has a poised way about her. No matter how much pressure the defense applies she just never plays out of control or speeds herself up which makes her one of the most consistent finishers in her class. She is starting to turn it up in terms of imposing her will. She may be more Pippen than Jordan but she's a fantastic female version of Pippen.

USA U16 Trials-May 09: Floridian Alexis Prince stands 6-0 and can play as a wing or forward. Watch her for a couple of possessions and you will see she is one of the smoothest athletes, regardless of class. She makes things look incredibly easy and sometimes appears as though she's not working hard. It's deceiving because she makes quick work of a relaxed defender. She has the length to play an inch or so taller than she's listed and that length is featured with the high release on her jumper.

Nike Regional Skills Academy-April 09: Orlando's Alexis Prince has some very good size for a perimeter player, but seems to be still learning the game. A willing defender at times, Prince will need to be more consistent in her efforts on this side of the ball. Standing a shade over 6-feet -- with room to grow -- Prince needs to be more assertive in her efforts to capitalize on her physical tools. A lot of potential and promise, but more application will be needed.

Boo Williams-April 09: Prince has excellent shooting touch, is very athletic but needs to show more intensity and focus.
Notes
Club Team: Essence Purple

Feature Story: Prince sees clearly now -- April 2011