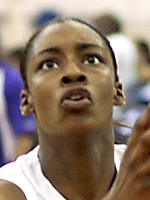 Brianna Banks
Guard
CLASS: 2011
Newnan, GA

Hometown

Fayette County

High School
24

Overall Rank

6

Position Rank
ESPN Player Evaluations
Nike Nationals-July 10: Banks continued her steady and mature play contributing to Essence's impressive run in Augusta. She was a force in transition both with the ball and running the lanes. Her perimeter consistency still comes and goes a bit but she seems to be able to count on her pull up at any time. Defensively not much can be said that hasn't been revealed in the past. No point guard wants to square up and see her in a stance in front of them. (Lewis)

Nike Summer Showcase-July. 10: Steady and constant are qualities that seem to be more rare than they ought to be these days but Banks has found a way to be that kind of contributor game in and game out. This hasn't always been the case but it's becoming more and more evident that she's found the focus that allows her make an impact at both ends for the duration of the game. Her offensive game continues to show advancement and maturity and she's becoming a more reliable threat in the scoring column. Her defense speaks for itself and not many can offer up the kind of intensity and attack she puts into getting a stop. (Lewis)

Wildcat Classic-May 10: Often a sign of a top-tier player is her ability to continue to advance her game even after she has achieved elite status among her peers. Banks, ranked No. 33 in the 2011 class by ESPN HoopGurlz, has steadily improved her skills at both ends of the floor over the last couple of years and is now showing herself to be a dominant and go-to player. The intense and aggressive play of this 5-foot-9 guard from Essence makes her a constant concern for opponents and should have the folks at Connecticut smiling when she arrives on campus next summer. On the offensive end, she's showing more and more versatility, while her decision making has matured leading to better decisions with the ball. Defensively she's always been one of the top stoppers in the class, and her anticipation on and off the ball is on par with some of the best defenders on the college level already. (Lewis)

Nike Regional Skills Academy-April 09: If you're looking for explosive guards, Atlanta's Briana Banks is going to catch your eye. The left hander from Northgate High School can create moments at both ends of the floor that leave opponents standing in their footsteps. She's smooth with the ball in her hands and has the ability to get to the rim or pull up with an impressive jumper. Defensively she anticipates well and has the ability to turn a ball handler which is difficult to find on the high school level these days. The question mark in her game is consistency. It's not that she plays bad but that she has moments where she's not really contributing. What really makes it noticeable is the fact that her good moments are so strong. If she's making an impact from tip to buzzer opposing coaches are going to lose sleep.
Notes
Club Team: Essence Purple