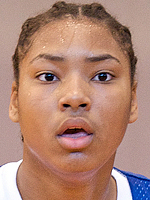 Asia Boyd
Guard
CLASS: 2011
Detroit, MI

Hometown

Renaissance

High School
39

Overall Rank

9

Position Rank
ESPN Player Evaluations
Midwest Showdown-May '10: Looking bigger and stronger, this 6-foot guard from Team Detroit continues to play a game already more suited for the college level. The difficult thing at this point is judging if that physical maturity might make it more challenging for her against the small and ultra-quick guards she may face down the road. Don't misunderstand, she's still quick in her attack and has tremendous ability in creating with the ball in her hands. Her vision allows her to see the floor effectively and her passing is as effective as her scoring. The added size can also ultimately be a weapon with her ability to muscle smaller guards and handle the physical play when she penetrates the paint. It also can be a benefit on the defensive end of the floor and make her a rebounding force from the perimeter. Time will tell. (Lewis)

Deep South-April 10: Boyd is one of the top wing prospect in the midwest in the class of 2011. She has a great build for the wing position. The lefty forward has a deliberate attacking style that caused problem for defenders. She can power past almost any defender. She'll need to develop her ball handling abilities long term, but a nice prospect now.

Midwest Showdown-May 09: Asia Boyd of Team Detroit is a 6-1 combo guard with a ton of tools. The lefty plays a lot of point guard, but can flat out score the basketball. She is strong for her age and uses her body well, when attacking the defender. She sees the floor and makes a lot of nice dishes in the lane, many of which catch her teammates off guard. Those plays won't be turnovers at the next level. Her range extends beyond the 3-point arc as well. She needs to get a little stronger with her right hand, but she this kid isn't lacking confidence. She will put her team on her back at times, while not dominating the ball for an entire half.
Notes
Club Team:Team Detroit