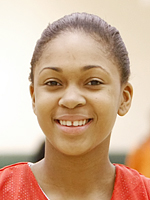 Alyesha Lovett
Wing
CLASS: 2011
Newark, NJ

Hometown

Malcolm X. Shabazz

High School
71

Overall Rank

12

Position Rank
ESPN Player Evaluations
USJN DC-July 10: Didn't quite play as she did in the "Boro but still playing at an elevated level. Scored with versatility utilizing both spot up jumpers as well as some eye catching baseline drives. Defensively she may potentially be one of the better defenders in the class with her length and lateral speed. Not a sleeper but a real steal. (Lewis)

Battle of the Boro-July 10: This long, lean 5-11 wing put in several performances that should have her phone ringing quite a bit over the break between evaluation periods. Athletic, with some impressive speed, the Newark, N.J., native shows some potential with the ball in her hands. Lovett measures defenders again and again with ball fakes and jabs looking to create her opportunities. She can slash effectively into the paint and has the physical skills to finish in traffic. Her form is fundamentally sound and there's a little bit of range on her jumper as well. What makes all this even more impressive is that she's constantly looking to attack. That same approach comes into play at the other end of the floor as she has the quickness and lateral speed to corral smaller and quicker guards. The combination of size and mobility make her an ideal part of almost any trapping or pressing situation. (Lewis)

Boo Williams-April 10: Nice size on the perimeter. Can create, sees the floor and passes it well.


Notes
Club Team: NYC Gauchos