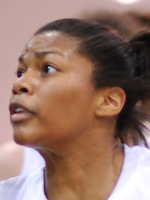 Jannah Tucker
Guard
CLASS: 2013
Randallstown, MD

Hometown

New Town

High School
8

Overall Rank

5

Position Rank
ESPN Player Evaluations
USAB Trials-May 12: The 6-foot Tucker was one of the best pure scorers at the trials. She has shown the ability to consistently knock down the 3, whether it's contested or not. Her strength and size allow her to take advantage of any mismatch and capitalize on a quick pull-up jumper or an aggressive drive to the basket. Tucker has impressive footwork when she sets herself up on offense, and it is equally notable when she fights for position on defense. Her ability to defend the perimeter and body people up in the lane enables her to guard just about anyone on the court. She brings a lot of the intangibles that you cannot teach, and her leadership is invaluable. (Gray)

Boo Williams-April 12: There is a phrase in basketball: Hand down, man down. And the play of this 6-0 guard illustrates why such a saying exists. Inside 20 feet, Tucker can rise up and hit a jumper at any time. Tucker probes the defense with dribble jabs as well as anyone and is as smooth as they come transitioning from the bounce to her shot pocket. Fatigue was the only thing that really stopped her. In the championship game against the Flight, it was obvious her legs were spent. The most impressive thing about her weekend performance is that once she identified her fatigue, she played a capable decoy and deferred to teammates who were getting things going rather than jacking shots to shoot her way out of it. She had some terrific games, scoring the ball with such ease that it is no wonder she has earned top-10 status in the class. (Hansen)

Nike Nationals-July 10: While her performance wasn't quite as impressive as DC, she continued to show why she's one to the 2013 standouts to keep an eye on. Again, the combination of size, athleticism and skills set her apart from other players her age. She seemed more aggressive and confident in her attack finding her way into the paint time and again. The shooting percentage wasn't her best but the form looked sound and her shot selection was sharp. Her ability to run the floor makes her a legitimate threat in transition with and without the ball. Defensively her size put her in a good position to get stops though her youth caught up to her a time or two. Unlimited potential. (Lewis)

Boo Williams-April 11: Noted improvement in her overall foot speed and lateral movement on defense, she looks physically stronger. (Bodine)

USJN DC-July 10:If you remove three of your top athletes from a club team it isn't often that the player who steps into the lurch is the youngest player on the team. This 6-0 combo guard from Randallstown, Md., has the makings of an elite player on the high-school level and beyond. Physically she has the size, athleticism and maturity to match up against players older and much more experienced and still excel. Her physical strength goes with a deceiving first step to get her past aggressive on ball defenders and create both pull ups and options at the rim. The ballhandling skills are there both on the break and in the halfcourt and her decision making is advanced for her age. As with several other young shooters there's a slight forward motion in her perimeter shot but nothing that can't be ironed out making her an even more diverse threat. Effort is never an issue as she constantly gets out and out runs the floor whether on the break or getting back defensively. Her size, agility and strength make her a versatile defender and challenge for opposing teams to attack. Lots of tools and potential are in place.

Blue Chip-April 09: Big PG, very high IQ, passes well, runs the floor, finishes, very skilled for her age.
Notes
Club Team: Baltimore's Charm