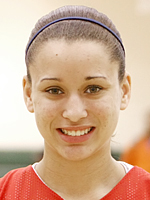 Brianna Butler
Guard
CLASS: 2012
Brooklyn, NY

Hometown

Nazareth Regional

High School
14

Overall Rank

4

Position Rank
ESPN Player Evaluations
PBR Super 64-July 11: The maturity in Butler's game is beginning to be one of the most challenging assets defenders have to cope with. Her already well documented skills are allowing her to play the game and make decisions as if she's a college player among junior high competitors. It's not a physical thing but more a confidence and patience that is setting her apart from the crowd and putting her in a position to make plays consistently. The "monoemotional" aspect to her play leaves no hint of a spectacular play nor a devastating turnover. The smooth, fluid motion to her play at both ends is measured and utilized efficiently from tip to buzzer. Butler is one of the elite who has continued to advance her game throughout her career and appears ready for her senior season and beyond. (Lewis)

Blue Chip Center Court Challenge - April '11: In the past, she has been hit and miss, but the version of Brianna Butler on display in the latter stages of this tournament is the one who inspired ESPN HoopGurlz to rank her No. 8 in the class. She has a beautiful, easy, tightly spinning jump shot, which she can rain from about anywhere on the court. She also has the dribble moves and instincts of a point guard, but the advanced body, at 5 feet 11, of a college-level shooting guard. The rub, in the past at least, is that sometimes the only place to see Butler's abundant skills was during warmups, as she frequently deferred to her band of highly touted club teammates. Unselfishness of course is a coveted quality, but schools generally are not recruiting the upper reaches of a given class in search of complementary players; they are looking for alphas. This being Butler's recruiting year, on a team that now needs her to pull, perhaps she has just served notice. (Nelson)

Peach State-July 10: This 6-0 guard has all the skills that most perimeter players dream about. The native of King of Prussia, Pa., has the ballhandling and passing, the stroke and range as well as the court instincts and intelligence to make plays against the best of defenders. The frustrating thing about Butler at times is her willingness to let the game come to her. Ranked No. 10 in the 2012 class by ESPN HoopGurlz she should be attacking more and creating options rather than waiting to see what the opposition is going to give. Make no mistake, she can exploit almost any situation but seems content to take it all in at times rather than jump into the middle of it. When she does attack she has a variety of moves off the dribble that get defenders lunging or standing up as she efficiently makes them pay on the drive or with the pull up. She's versatile enough to handle it in transition and halfcourt sets and is more than willing to set up scoring opportunities for teammates just quickly as she does for herself. Defensively she anticipates well and uses her size to her advantage but at times struggles with the smaller, ultra-quick backcourt matchups. At her assertive best, she's one of the tops in the class. (Lewis)

Battle in the Boro-July 10: One of the more steady performers in the 2012 class. She's shown a maturity and confidence to her a game for a couple of years. Can create off the dribble while still reading defenders and making good decisions. The smooth fluidity with which she plays almost seems to give her more time with the ball on penetration. Her form and range allow her to be a threat deep but the pull up works well for her off the drive as well. Defensive footspeed might be a question mark but effort and focus allow her to be effective. (Lewis)

Wildcat Classic-May 10: Smart and skilled are adjectives that any recruiter loves to see applied to a prospect. It doesn't take watching Brianna Butler of Exodus very long to realize that she has both of those bases covered. The 5-11 guard makes good choices with the ball in her hands and can deliver both the shot and the pass. While she's not going to beat you with quickness, her ability to read defenders and see the floor allows her to exploit opportunities. There's a steady and constant element to her game that makes her a threat on every possession in the halfcourt or on the break. Her scoring is balanced from both sides of the floor as well as inside and out. Defensively she could be more aggressive on the ball but that same vision she has offensively allows her to be effective on the weakside. (Lewis)

Nike Skills, New Jersey - May 2010: The class may not have a smoother operator at the offensive end. The solid, 5-foot-11 guard does things with an effortless athleticism and has an And1 array of dribble moves, all nice and quick, including a killer crossover on the dead run. She is equally adept with either hand off the bounce, though clearly prefers her left. Butler in fact has one of the strongest off-hand dribbles ever seen at this level. She can get into trouble with it, however, because she is not as confident in her left on the launch and will switch hands to shoot after beating a defender with the left, giving the defender a chance to recover for the shot. Similarly, though quick accurate to long distances, she has more of a push-from-the-chest shot than a true jumper. That launch makes it difficult for her to square on a pull-up going left. The good news is that Butler has time to make adjustments that will elevate her to among the elite of the class' elites.

Deep South-April 10: The Exodus NYC program has produced its share of elite-level guards over the years and the next seems to be that of 6-foot Super Soph Butler. This is a guard who showed marked improvements in her total game. The biggest improvement really seems to be in her ability to make plays off the dribble. Already known for her long-range proficiency, Butler has added some serious off-the-bounce artistry. Those include a very nice hesitation move to crossover defenders and a delayed dribble drive that she uses to get inside of relaxed defenders. She can still shoot it with the best of them still and has shown a bit of life as a defender with her quick hands. The solidly built Butler has the makings of high-level prospect.
Notes

Club Team: Exodus NYC 17U

ESPN HoopGurlz Tip Sheet Mentions:
%u2022  Center Court--April 2011