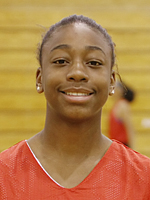 Jewell Loyd
Guard
CLASS: 2012
Skokie, IL

Hometown

Niles West

High School
4

Overall Rank

1

Position Rank
ESPN Player Evaluations
Strengths: Scoring ability, versatility, basketball I.Q., passionate competitor
Areas to improve: Settles for jumpers at times, gambles on D, foul issues
Bottom Line: Loyd is an elite talent. At times through her high-school career she put up performances that were just simply impressive. She is a quality perimeter shooter and a very good playmaker off the bounce. Throughout her prep career we have seen Loyd strive as a point guard or on the wing. She is athletic enough to get out in transition and finish in traffic and skilled enough to create a high volume of shots in the half court for herself and others. In Loyd Notre Dame is getting a special talent. She has that specialness to make plays that others cannot.

USJN Chicago-Oct. 10: So much has been written coming off of Loyd's sensational summer with USA Basketball, which culminated with a gold medal in the FIBA U17 World Championships. In a setting against your typical high school club competition, she quickly reminds everyone how special she is. If there is a fountain of "it", then it's in her backyard. Because USA Basketball robbed everyone of seeing her paired with Samantha Logic and her passing wizardry, the fall was a glimpse of what might have been. The two play off each other as well as any perimeter combo on the circuit. Loyd's ability to shoot from long range or create and finish in traffic are unmatched in the class because she adds strength to speed and quickness. (Hansen)

FIBA U17-July 10: Much as already been made of Loyd's fantastic play in France (FIBA Reflections). She was the spark off the bench and really one of the keys to the USA pulling away from the better teams in the tournament. She was clutch, brought incredible tempo that other teams could not match with their benches. She shot a respectable percentage from 3-point range (35.3 percent) but more important was the timeliness of each of her makes. She had an answer for every run. There wasn't any fist-pumping or jersey-popping. Loyd operated with a "business as usual" approach whether on the court or in postgame press conferences. She did tie for the team high in turnovers, which has been the biggest area for improvement for some time. In this setting it isn't quite of troublesome because her roll was to come off the bench and make things happen, and when you ask a player with her speed and quickness to do that, there are going to be some turnovers. All in all an outstanding performance from a star player excepting her role and making the most of it. (Hansen)

USA U17 Trials-June 10: Usually the quote is "jack of all trades and master of none." When it comes to this 5-9 combo guard from Lincolnwood, Ill., she has mastered most of the skills that coaches are looking for and has few deficiencies that would scare any of them off. Her smart play and exceptional athleticism makes her a force with the ball in her hands or in a defensive stance. She has the ballhandling skills to play the point but appeared just as comfortable as an off-guard. Off the dribble she can leave opponents standing with a low, attacking crossover and can pull up as well as take it to the rim. The range and stroke are there from 3-point range but her consistency from the perimeter wasn't all it has been in the past. Defensively she has impressive lateral speed and gets low but for some reason plays further off than she should on ball. Her potential to control opposing ballhandling should make her one of the top stoppers in the class. (Lewis)

Music City-July 09: Jewell Loyd of Lincolnwood, Ill., is fun to watch. The Full Package guard plays the game at a speed matched by few. Slowing the game down with her on the court is nearly impossible because she accelerates past the would-be defenders. She changes directions at full throttle and has the ability to pull up from 3-point range when the defender goes into full retreat.

USA U16 Trials-May 09: Jewell Loyd of Lincolnwood, Ill., is an energy player, pure and simple. She instantly increases the pace of play by checking into the game. She is relentless on the court, makes things happen and is the first player to give a player a verbal boost. The 5-9 guard pushes the tempo so much that turnovers tend to come a little more frequent than expected for a player of her caliber. She showed some perimeter shooting ability, but could be a little more consistent.

Fall 08: At first, Jewel Loyd just looked like another great athlete -- but then she buried four long three-pointers when her team needed them most, and it became clear why college coaches were congregating at her games. She's very athletic, a good shotblocker (even at 5-8) and can create her own shot. She has quick hands and jumps well, which just makes her an even better player. If she works hard, she will be an elite player.
Notes

Club Team: Midwest Elite

Member of the USA Basketball U17 national team that won gold at the FIBA World Championships, 2010.

Tip Sheet and Extended Evaluation Mentions:
~ Great Plains /USJN - May 2011