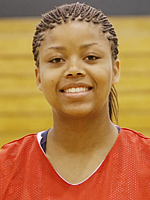 Mariah Smith
Wing
CLASS: 2011
Peoria, IL

Hometown

Richwoods

High School
57

Overall Rank

9

Position Rank
ESPN Player Evaluations
USJN DC-July 10: Smith continues to play at the level folks expected from her when she burst on the scene as a freshman. In DC she was attacking more off the dribble and created much more efficiently in traffic. She did get herself hung out to dry on occasion but the trade offs for the penetration were worth it. On a smaller than usual Hustle team she found her roles defensively and on the boards to have the expectations of the forward spot and provided some impressive results. (Lewis)

Summer Showcase-July 10: Enjoying a resurgent summer, Smith presents quite a conundrum for opposing defenses. At 6 feet, she is likely to handle the ball at the point and post on the low boxes during the same possession. Essence, for one, used its 6-4 post, Rachel Hollivay, to defend her. That wasn't a bad move because she has a nice, smooth shot from deep, and is an explosive, fluid athlete, with or without the ball. Smith can create her own shots, but is more of a negotiator than an ankle-breaker, using power backdowns and spin moves to get to the rim off the dribble. (Nelson)

Another one of the players rediscovering her earlier potential was this smooth 6-0 wing. An assertiveness that's been missing seems to have found it's way to the forefront of her game and made her a threat that is effective off the drive or jumper. Her fluid attack gets her deep in the paint where her much improved shot selection is evident. The passing decisions and skills are still coming but serving her well none the less. Her size and length make her a formidable defender with the potential to match up at any spot on the perimeter. (Lewis)

USJN Cincy-July 10: She has the ability to score from the perimeter and from the post. She will need to improve on her footwork on her jump shot, as she as tendency to drag her feet. (Bodine)

Boo Williams-April 10: Smith has been a well known entity for quite some time. She has the size and athleticism to be a legitimate threat on the wing. She's smooth and methodical to the point of almost appearing a step slow at times. She create off penetration by taking it all the way or pulling up. Her perimeter stroke and range are there but not showing the consistency she'll need to keep defenders honest. Defensively she could stand to get a little more physical and become more of a force on the boards.

Chicago-Oct. 09: Mariah Smith seems to be slowly regaining the form that has had recruiters keeping their eyes on her for several years already. After a tough summer of injuries the 6-2 wing for the Illinois Hustle became more and more comfortable each game and put points on the board by attacking and stepping out to shoot the long ball. Her first step is deceivingly quicker than it appears and often gets her into the paint on baseline drives where she finishes well in traffic. In addition to her height on the perimeter, she has a strong, solid build and isn't hesitant to lean into a defender to create some space. Defensively she'll need to get a little lower in a stance to match up with quicker opponents and force them to play laterally.

Nike Regional Skills-May 09: Mariah Smith of Richwoods High School in Illinois is a bit of a tweener but she has smooth athleticism that could quickly evolve into serious versatility. She measured out just a hair under 6 feet 1. Her athleticism is deceptive and she has put some work in on her perimeter skills. Her range and confidence are increasing. Around the basket, she is strong with the ball and can score easily on same-sized opposition, but she struggles against some of the bigger forwards. As she tightens up her handle, she should be able to face those bigger front court players up and score in others ways.

Nike Skills May 08: Mariah Smith looks to be about 6-1 and an up-and-coming force in the paint. She was a little passive at first but got herself going once she was comfortable with the expectations. Smith's footwork looks great, even at full speed. She also wasn't afraid to work on her off hand. In the post-work drills, they worked on jump hooks with both hands, and she went from crashing the shot off the top of the backboard on her first lefty jump hook attempt to dropping them in the cup with full extension by the tenth repetition. She wasn't afraid to go at the drill hard with full extension on the shot and her learning curve was steep and fast. Even as a freshman, she has a strong frame and getting more aggressive would make her even more successful. She's definitely a player to keep an eye on.
Notes
Club Team: Peoria Pt Players