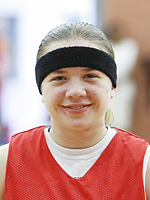 Kylie Huerta
Point Guard
CLASS: 2011
Covington, WA

Hometown

Kentwood

High School
—

Overall Rank

129

Position Rank
ESPN Player Evaluations
March 09: Kylie Huerta is only 5-feet, but that doesn't stop her from impacting the game. She is truly a wizard with the ball and uses her lack of size to her advantage, weaving in and out of traffic. She has also mastered contorting her body and shooting off balance to get credible shots up, once she gets into the heart of the defense. Most impressive though, is how she finds teammates once she's surrounded by help defenders. In college, the size difference will be more of a factor, but this kid is a competitor who makes plays players a foot taller only dream about. She has improved her range, but that continues to be the area most scouts question because it will allow defenders at the next level to sag off into the gaps.

Nike NW Dec 08: At 5-feet she is always going to have to play harder and smarter. She has nice handle and is creative with the ball. She knows that going into the lane she is creating for teammates most of the time. She will toss in the occasional runner if the defense doesn't move over from help positions. She is not overly athletic like a D'Franz Smart or hyper quick like a Mariah Williams but she gets the job done. She takes care of the ball and spins away from double teams to find passing lanes. She's going to need a consistent 3-point shot to take her game to the next level.
Notes
Notes are not available.