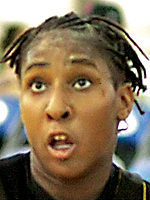 Crystal Bradford
Guard
CLASS: 2011
Detroit, MI

Hometown

Inkster

High School
37

Overall Rank

8

Position Rank
ESPN Player Evaluations
Nike Summer Showcase-July. 10: Has all the tools but played with a hesitancy in a new uniform. Size, athleticism and individual skills make her a prospect at the highest level. Creates one on one opportunities almost at will but can be too reliant on that option. The pull up is a serious weapon but drifting limits consistency. The tools are there to be a strong defender but the effort doesn't quite match up at that end yet. (Lewis)

Run for the Roses-July 10: Dynamic and explosive are just a few of the adjectives that come to mind when describing the 6-1 combo guard from Detroit, Mich. Bradford is great mix of creativity and basketball skill who is a constant threat to score from anywhere on the perimeter. She is at her best when she is pushing the ball up the court in transition, she understands how to split defenders and rarely gets trapped because she keeps her head up. Bradford is quick to recognize open teammates and has a knack for delivering perfect passes once she draws a double team. The lefty uses her length and athleticism on defensive to her advantage because she is taller than most guards and she is has the size to mix it up down low when necessary. (Bodine)

Wildcat Classic-May 10: If there's one commitment in the 2011 class that might define the word impact, it would be this 6-1 guard's decision to continue her career at Central Michigan following her high school graduation. Playing for Top Ten out of Michigan, Bradford convincingly demonstrated why she's ranked 29th in the 2011 class by ESPN HoopGurlz. Her individual skills allow her to create her own looks time and again both in the halfcourt and in transition. She has both the size and athleticism to be a challenging matchup for any defender. While she can get to the rim almost at will, she also has one of the few "true" jumpers that you'll see in the gym. Her pull-up is effective off penetration but deeper on the perimeter as well. Defensively she's active and aggressive on ball but takes a few chances at times leaving her out of position. On the weakside she anticipates and comes up with some picks but does have a tendency to stand up and be slow to rotate. (Lewis)

Midwest Showdown-May 09: Detroit has a special player in Crystal Bradford. At times this weekend the 6-0 guard looked as good as anyone in the gym. She has plenty of quickness, leaping ability and handle. She is a capable 3-point shooter and has a nice mid-range pull-up. Physically, she is strong and initiates contact in the lane while still keeping enough balance to finish. With all her ability she needs to become more consistent. She has the tools to impact every possession when she's on the floor, either by being a scoring threat or making her teammates better. When she figures that out she'll be a major impact player.
Notes
Club Team: Motor City Top Ten and All Ohio Black

First team all-state, 2009