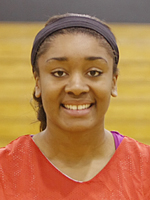 Morgan Tuck
Forward
CLASS: 2012
Bolingbrook, IL

Hometown

Bolingbrook

High School
6

Overall Rank

3

Position Rank
ESPN Player Evaluations
Braggin' Rights-Dec. 10: Really established herself as a low post presence in both games. Took advantage of what neither opponent could defend and made the most of it. Her versatility is becoming more and more defined as time goes by and she's playing a well thought game rather than just the same approach no matter who she lines up against. Also, she was a strong force on the boards at both ends of the floor and is outletting the ball very quickly to trigger the break. Looking better than she did just a week and a half ago. (Lewis)

Nike TOC-Dec. 10: Asserting herself more and more effectively on the block and looking to create her own looks with her posting, seal and angles. Finishes confidently on the catch and can work both to the baseline and the middle. Was streaky with her usually reliable perimeter shot from the high post but drove aggressively and got to the rim impressively. Not many offer as many options at the forward spot in the 2012 class. (Lewis)

FIBA U17-July 10: Tuck didn't start the first two games, but worked her way into starting lineup by showing a disciplined game. She turned the ball over just six times in 139 minutes. She played out of position to some degree, as she was opposite Mosqueda-Lewis on the wing. She was still at her absolute best when isolate on the blocks, showing her solid back-to-the-basket game. Because of the length and size of the interior players those opportunities were fewer and further between than she probably expected but she stepped into a role that Nelson asked of her and brought a calming balance to the starting group. She used her length to bother shooters but on the wing she eventually had to back off the player she was checking to keep the quicker players from going by her. In the international game there isn't much of a power forward, but back home she will be back in a more comfortable role, however she should be proud of the adjustments she made and her contributions to the team. (Hansen)

USA U17 Trials-June 10: She's back. Tearing her ACL a year ago at the U16 trials, the 6-2 forward from Bolingbrook, Ill., seemed to cap a year of rehab and rust removal with a performance that reminded anyone watching of the promise that once seemed limitless. Her play at the forward spot revealed a first step that could get her to the rim at will as well as the perimeter stroke that will force defenders to come out on her. Inside she created her shot with a series of post moves including an impressive textbook step through that brought several defenders out of their stance. Her play appears smarter and she's reading defenders while making decisions that a point guard would be proud of. Over the course of the trials her confidence seemed to grow and the attack in her game grew with it. Defensively she anticipates well but still will often settle in behind her match up on the block. While not a problem for those 6-5, Tuck's 6-2 listed height includes thick soled Nikes and a couple pair of socks. On the boards she's strong and aggressive and is quick to get the ball out to her guards to start the break. (Lewis)

Braggin Rights-Dec. 09: The rust is slowly coming off and Bolingbrook's (Ill.) star forward is finding her stride after an ACL detour. From just two weeks ago in Phoenix to this week in Columbus she seems more comfortable posting up and attacking and isn't settling as much for the short fall away. Additionally, in Monday's game against Clarksville she was out in transition time and again finding the range and finishing with 36 points. On the block she looked to score on the baseline side as well as into the middle. The stroke is there on the jumper, but she was more effective inside on the attack rather than stepping away. Tuck may be one of the very few prospects who is a true forward by definition. While she's still doesn't appear 100 percent, she starting to remind folks why she's one of the top prospects in the 2012 class.

Nike TOC-Dec. 09: Still showing the effects of the ACL injury, she clearly favored the leg at times. Her offensive game was more oriented to short jumpers and a less attacking approach. There were glimmers of the promise she's always shown but there's still some rehab and re-acclimation to be done to fully return.

There was question as to how well or aggressive Morgan would play this year at TOC. And although it was obvious the ACL has changed her game somewhat and possibly made her a bit apprehensive, she still has the ability to finish the fall away and generate points. Look to her to continue to become more powerful as she becomes more comfortable going full speed on that knee.

USA U16 Trials-May 09: A player coming into trials with high expectations was Bolingbrook's Morgan Tuck. The 6-1 forward started out a little timid and it looked like the tremendous length on the court was too much for the budding star. Wrong. She warmed up in the middle of the trials and had about as dominant a two-session run as any of the front court players. She showed good finishing touch with both hands and she did it on consecutive possessions to show everyone that it was far from luck. Just when she was taking off she fell to the floor, tore her ACL and was unable to participate in the final three sessions.

Nike Regional Skills-May 09: There is a lot to like about Morgan Tuck. Her footwork in the post is fantastic and she can finish with a plethora of moves. She has primary and counter moves already and the truly scary part is that most of those moves can be finished with either hand. Her jump hook is text book and goes both right and left with ease. She has some redeeming qualities on the perimeter as well because she is so athletic, but it will be hard to pull the Bolingbrook star off the blocks. At almost 6-2, she has adequate size to play numerous positions. Despite her talent, we've actually seen her play better than she did in this setting. She has another gear and if she wants to reach that spot on top of the 2012 class she will need to dominate the way she is capable of with more consistency. With that in mind, there probably isn't a single college in the country that wouldn't take a commitment from her right now or have a problem suiting her up next season.

Braggin Rights Jan. 09: Morgan Tuck didn't have her best day in Ohio, but she still had moments that showed why she's one of the top players in the 2012 class. The Bolingbrook forward is athletic and fluid in her movement on both ends of the floor and has the physical skills to match up with anyone on the high school level. The maturity and experience that will come from the top flight competition the Lady Raiders are facing will pay off almost on a daily basis. Tuck will have to find consistency in her perimeter shooting to keep athletic defenders like she faced in St. Michael's honest and draw them out to set up her drive.

TOC Dec. 08: Usually when a state runner up returns four starters, opponents know what to expect. Bolingbrook's (Ill.) opening round win showed why this year's squad might have added a new and final ingredient for another run at the state title. Freshman Morgan Tuck would tremendously add to any team, but add her to this talented roster and something special is bound to happen. The 6-2 forward has all the tools and potential to take her game to any level. The combination of her size and build allows her to play a power forward and she's certainly willing to mix it up in the paint. At the same time her ballhandling skills and solid stroke give her the potential to play on the wing in the future. She gets out in transition and forces opposing defenders to run the floor with her and even took the ball herself a couple times when the outlet pass was denied. Thursday her active effort on defense forced Riverdale Baptist into poor decision making and shot selection. The Raiders are still a young team with only two seniors and with Tuck as the youngest of them all, the future is looking very bright indeed.
Notes
Club Team: Illinois Dream Team

Won a gold medal with the USA Basketball U17 national team at the FIBA Worlds, averaged 7.4 points, 5.0 rebounds and 1.1 assists per game, 2010. ... ESPN Rise Sophomore of the Year, 2010. ... Parade All-America second team, 2010. ... Selected to the USA Basketball U16 national team (DNP--injury), 2009. ... All Conference and All Area selections, 2009. ...IBCA All-State First Team selection, 2009. ... Illinois Ms. Basketball (first ever freshman to win it), 2009. ... ESPN Rise Freshman of the Year, 2009. Parade All-America third team, 2009. ... won an AAU 12U national championship with the IL Central Elite, 2002

Compiled more than 1,000 points and 500 rebounds in her first two years at Bolingbrook.