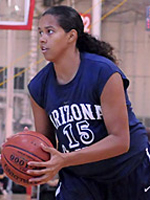 Je Zhe Newton
Post
CLASS: 2012
Chandler, AZ

Hometown

Chandler

High School
67

Overall Rank

9

Position Rank
ESPN Player Evaluations
WCP Spring-May. 11: Big body, runs the floor. Has gotten in better shape. Limited touches on the offensive end. Doesn%u2019t stop playing, will rebound in her area. Changes shots with her length. (Clay)

Battle For The Boro-July 10: Looks to have recovered well from knee issues experienced in the spring. Still exhibits all the tools that has the recruiters lining up at her door but needs to be more assertive in doing so. She has the potential to be the dominant player on the floor anytime she suits up but still seems to wait for the game to come to her. To use the perimeter options that she seems to love she'll have to first establish her low post presence to keep opponents guessing. (Lewis)

Nike TOC-Dec. 09: Chandler High (Ariz.) coach Zon Thompson has the luxury of three players at the 6-3 mark, but sophomore Je Zhe Newton may provide him with the biggest reason to smile. Her size and build, combined with mobility and versatility, make her one of the top post prospects in the 2012 class. She has an impressive reach to go with her height and her solid frame allows her to put those physical attributes to good use. The ability to run the floor is there but the breakneck pace the Wolves play at often left her winded and trailing the play. With the ball in her hands she has the potential to score effectively down low or to step out and shoot the ball on the perimeter. Once she learns to establish her inside game early in a game she'll be able to get the shots she wants which often appear to be more from the 15-foot range. Newton has all the physical and basketball tools to accomplish any goal in front of her if she embraces the right attitude and commitment.

TOC Dec. 08: Chandler High School (Ariz.) has a promising young swing player in 6-2 Je Zhe Newton. Just looking at her height, length and build suggests an extremely high ceiling. She has very good agility and hit numerous fall-away jumpers, with just enough fade to get the shot off without falling off balance, both from the low post and the mid post. She needs to improve her consistency as she is a matchup nightmare.
Notes
Notes are not available.