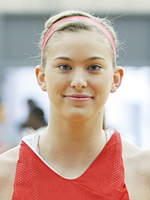 Katie Collier
Post
CLASS: 2012
Covington, WA

Hometown

Seattle Christian HS

High School
22

Overall Rank

5

Position Rank
ESPN Player Evaluations
EOT-July 11: Collier continues to get stronger and is playing more physical in the paint. She seems to have grown to a legit 6 feet 3. She's handling double teams better and finishing her first shot more consistently. In the spring we saw her get double and triple teamed by teams willing to let anyone else but Collier beat them. She deferred then, kicking the ball out, but seems to have made progress in seeing the trap before it reaches her and deciding if she can make a strong move and score it. She showed her versatility on defense, with good mobility allowing her to swarm in the Tree of Hope fullcourt press. All signs point to steady improvement and she should be one of the most coveted interior players on the West Coast. (Hansen)

Deep South Classic-April 11: Lots of physical and basketball tools. Has advanced her game to be a threat both in the paint as well as in the high post. Still not quite ready to reside on the perimeter full time but has a lot of the skills to be successful in a four out set. Her agility makes her a difficult match up for defenders and she's not backing down from the pushing and shoving inside. She brings a lot to the table. (Lewis)

Deep South Classic-April '10: Collier is a strong phyiscal post presence with a competitive demeanor. She doesn't shy away from contact and does a great job of scoring and drawing fouls.

Nike Skills-May '09: Seattle's Katie Collier has a ton of upside. She's a forward with wing potential and the size to create mismatches, if she can refine her wing skills. The Seatac, Wash. native is a legit 6-2 and has all the length you expect of a player her size. She has good mobility, but needs to heed the instructors' advice and play low-to-high consistently. With her height and length, playing lower and in a more true athletic or triple-threat position will allow her to utilize her physical gifts. In reality, her first step could cover twice as much ground as it does right now. She is comfortable shooting the ball out to the 3-point line and has solid mechanics with the exception of a small pause or hitch just before release, which isn't an issue at the high school level most of time because of her size and high release point.
Notes

Club Team: Tree of Hope

As of Aug. 15, 2011: Will take four visits -- Washington, Gonzaga, Arizona State and UCLA. Dropped Cal and San Diego from spring list. No dates set yet for her four official visits.

ESPN HoopGurlz Tip Sheet Mentions:
~  Deep South--April 2011
Tip Sheet and Extended Evaluation Mentions:
~   Rankings Risers - May 2011