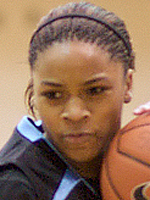 Brittany Roundtree
Point Guard
CLASS: 2011
Jacksonville, FL

Hometown

Potters House Christian

High School
53

Overall Rank

11

Position Rank
ESPN Player Evaluations
Turkey Jamm-Nov. 09: Consistency might be the greatest strength in Brittany Roundtree's game. Possession after possession she is an impact player at both ends of the floor. Playing either the #2 or the point she handles the ball in transition and has the ability to score it or make the smart pass. There's an aggressive attack when the ball is in her hands but there is still control and patience. Her ballhandling and individual skills put her in a position to create both passes and scoring opportunities for her talented teammates. What's scary is that she might be an even better defender than she is an offensive threat. Active, smart and anticipating, she gets a lot of touches and helps create turnovers out of Potters House's aggressive defense.

Kennedy Classic-Jan. 09: In addition to being a 5-9 point guard (insert college recruiter's smile here), Brittany Rountree of Potter's House is long, has quick hands, and plenty of what usually is a missing ingredient in young players -- instinct. At the helm of the most helter-skelter girl's high-school team in the country, Rountree effectively keeps order amidst the apparent chaos. She will not hesitate to go at defenses off the bounce and is great at slaloming through defenses to attack the rim or kick out to teammates rendered wide open after she sucked in defenders. Rountree also is one of the few girls we've seen effectively employ the "Kiki move" (hard dribble feint, stepping back into a jumper) that has been a staple at the late Pete Newell's Big Man Camps. Best of all, she seems totally bought into running opponents ragged by hounding them on defense to create abundant offensive opportunities for herself and her teammates.

Braggin' Rights Jan. 09: Easily one of the top players n the 2011 class. She has advanced ballhandling and passing skills and puts them to use every possession. She creates and scores but is equally skilled at distributing the ball. Even more impressive is her defensive effort. Like all of her PHCA teammates she creates a large majority of their scoring opportunities off opponent%u2019s turnovers. Baseline to baseline she puts out the effort and makes plays.
Notes
Club Team:Team Memphis Elite Daniels