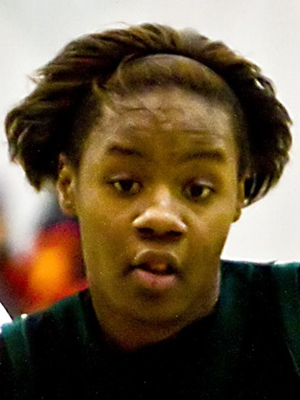 Jaymie Jackson
Guard
CLASS: 2012
Toledo, OH

Hometown

Start

High School
—

Overall Rank

45

Position Rank
ESPN Player Evaluations
Classic in the Country-Jan. 11: The potential that this 5-foot-10 guard showed a couple of years back is now becoming a reality. The confidence and maturity that she's now playing with is visually evident and having a big impact on her production. She constantly seems to be looking to attack and is much more effective in her decision making and reading of defenses. Off the dribble she can be explosive and her impressive vertical allows her to finish among the bigs. In the course of both Start games she shot 11 for 15 from the floor, including 2 of 3 from three-point range. In their loss to DuPont Manual she was the go-to player in the fourth quarter who kept them in contention until the end. Defensively she often takes chances but has all the tools to be a strong defender with her size and foot speed. Her performance was the kind that leaves you looking forward to seeing if she'll continue to advance her game to the next level. (Lewis)

Run For Roses-July 10: Excellent on ball defender does a grea job of turning opposing guards and defending pass lanes. (Bodine)

Braggin Rights Jan. 09: Jaymie Jackson has a first step some seniors only dream of. The Toledo Start freshman guard's explosive move allows her to slash and attack opposing defenses and continually create scoring opportunities. Her stroke looks sound and she has the ability to get off the ground and shoot a true jumper. At 5-10, she's got good size on the perimeter and exceptional athleticism to go with it. She's young and has a lot to learn but has a wealth of tools and weapons to draw upon.
Notes
Notes are not available.