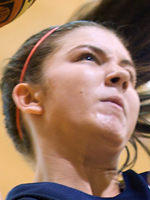 Megan Buckland
Guard
CLASS: 2011
High Point, NC

Hometown

Bishop McGuinness HS

High School
54

Overall Rank

15

Position Rank
ESPN Player Evaluations
Derby Classic-July 09: Megan Buckland of the Winston-Salem Stealers appears to be over the left quadriceps injury that limited her in Chicago last week. There were no signs of slowing, limps or any athletic tape to suggest she was hurting, which is good news for her team as the 6-foot guard is the floor leader for her team. She has a high motor and length, which leads to a lot of tipped passes and steals. She shot the ball better from 3-point range than she did from the midrange, which isn't that surprising as she shoots a leverage shot right now. She competes on every possession, which is the main reason she'll be successful at the college level. And her skill level is pretty advanced, too.

USA U16 Trials-May 09: Megan Buckland of High Point, N.C., was one of the bigger shooting guards invited to the trials. She is nearing 6-0 and has a strong frame as well. She doesn't jump out as super quick or fast, but in stretches she showed an explosive first step and got by some of the better on-ball defenders. She is a strong defender, both on the ball and off, while rebounding her position very well. The biggest question mark to her game is her 3-point shooting consistency. She had a couple of hot streaks, but will probably have to prove that the 3 is a shot she can hit with ease in the future.

TOC Dec. 08: Young guard with decent ballhandling and developing skills. She's showing good athleticism as well as solid instincts at both ends of the floor. Her stroke looks good on her shot and she's not hesitant to put it up. Strength may be an issue now but shouldn't be as she moves into her junior and senior years.
Notes
Club Team:Winston-Salem Stealers