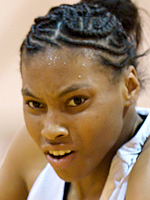 Betnijah Laney
Wing
CLASS: 2011
Clayton, DE

Hometown

Smyrna

High School
11

Overall Rank

2

Position Rank
ESPN Player Evaluations
Nike Nationals-July 10: Returning from her USA Basketball commitment, Laney may have struggled more than others to get back into the swing of her club team. The advancements of her game and her constant work ethic were still obvious but the results were not up to par. On the boards and defensively she was still a force and had no hesitancy in mixing it up in the key. When a player of her caliber would also be a candidate for a most improved award you know the best is yet to come. Augusta wasn't her best but no recruiter was having a change of heart. (Lewis)

FIBA U17-July 10: The transformation for Laney to the wing is still in progress. With a ball sweep, one or two dribbles. the 6-footer showed she could create shots for herself in the half court. She elevates well above the defenders and with her high release she can get her pull-up off even when well-defended. With handchecks and blocking fouls less frequent than in the U.S., her physicality was definitely a necessity in attacking from the wing. As she continues the transition to becoming an elite wing in college her ballhandling will need to improve. As a perimeter scorer, she seemed to struggle early figuring out where to impose her will and when to dump the ball inside. She shot 38.3 percent from the field and 50 percent from the free-throw line but she is one of those player that can go on a hot streak and carry a team. She turned the ball over a little more than was ideal but there's only so much chemistry a team can build in a one-week training camp and three exhibition games. (Hansen)

USA U17 Trials-June 10: One of the top overall performers at this year's trials was Delaware native Laney. A member of last year's U16 USA Gold medal team, Laney left little doubt about whether she would be making a return appearance with the U17 edition. The word often used during the trials to describe Laney was versatile. Although versatile players are not as rare these days as in the past, exceptional versatility can be. And that's what really unique about this 6-foot guard-forward. She is an All-American caliber shooting guard, wing or power forward. Opponents will notice the marked improvements in her shooting and fluidity on the perimeter. Laney's post play has been exceptional since she emerged on the scene as a somewhat undersized power forward. Look for her to be one of the leaders of this year's group. (Powell)

Midwest Showdown-May '10: If versatility is the characteristic, Laney is the poster child. The 6-0 Gauchos power player continues her evolution from forward to wing demonstrating an ability to incorporate aspects of both positions into her game. Her already well documented physical transformation is just a part of the expansion of her play. Each time out she's showing more and more perimeter skills and confidence while not totally abandoning the aggressive inside attack that's been her bread and butter. Her first step and ability to put it on the floor is creating more looks and her pull up is generating some nice opportunities in the paint. The longer jumper and anything more than a one or two dribble drive is still a work in progress but showing promise. Laney has already established that she'll be an impact player at the highest level. What position and to what degree remains to be seen. (Lewis)

Nike Skills, New Jersey - May 2010: Her physical transformation is little short of amazing. A year ago, she was a power player feared by her peers for her runaway-train ways. Laney now has a lean, aggressive and physically fit dimension to her game and is a different player. Rather than go through defenders, she now slinks around them and is most fearsome in transition. Once a glaring weakness, her mid-range pull-up has a lot more life. Almost to underscore her new, fit reality, when the rest of the players were flagging from a weekend of activity, she picked up ballhanders fullcourt during the final scrimmages. Impressive, indeed. (Nelson)

Boo Williams-April 10: Laney has proven she is not one to rest on her success. Appearing leaner and more fit than ever, she's demonstrating more and more that she's looking to embrace the wing position at the next level. She's becoming more comfortable attacking off the dribble from places other than the elbow and she's an option in transition on almost every break. The perimeter shot still needs consistency but is showing improvements as well. Her aggressive and physical play combines with these advancements to make her a challenge for any defense to match up with.

Super Showecase ATL-Oct. 09: After winning a gold medal this summer with the USA Basketball 16U team in Mexico City, it would be easy for forward Betnijah Laney to just relax and bask in the glory. She is already considered to be one of the top players in her class. However, because she is a shade under her roster height of 6 feet, her college position was not clearly defined. This weekend at the Super Showcase, the Delaware native showed remarkable improvement in her perimeter game. Earlier in her career when catching the ball from 12-15 feet, Laney would put the ball on the floor and drive to the basket, which worked because of her strength and physicality. Now she has added a very good pull-up jump shot to her game; she gets nice elevation and releases it high. She is still a force on defense and continues to show that she can rebound against taller players. Laney made it clear with her performance this weekend that she has the work ethic and talent to secure her status as one of the top forwards in the class.

USA U16 Trials-May 09: The sole representative from Delaware, Betnijah Laney came in unsure of where she would fit in best, the wing or forward position. After a couple of sessions you could see she was most effective from 12 feet in attacking the rim. Her physical strength negated the length many of her defenders had as an advantage. She has strong, wide shoulders and when she used them to protect the ball she finished well in the lane. She should be able to play multiple positions depending on matchups for USA.

Nike Regional Skills Acadmey-May 09: If there was one athlete on hand already well-suited for the college game, it was Betnijah Laney of Smyrna High School (Del.) and Philly Triple Threat. The 5-10 wing has a combination of power and control which is seldom found at the high school level. Her penetration comes in transition or the half-court set and is difficult to contain. What makes her all the more effective is the relentless approach she takes with each possession, battling as if each shot were a game winner. She effectively uses her body and attacks right off her defender's shoulders and hips, eliminating any hope of recovery. Her ballhandling is solid and her stroke is effective, but it could use a little more consistency. An intangible worth noting is that when players were asked to step out for a new drill, Laney was always one of the first. With her attitude and effort there's no telling what level she might take her game to.

Boo Williams-April 09: Big wing, solid ball handler in traffic, knows how to draw fouls and makes fouls shots. Effective defender on the perimeter and in the paint.
Notes
Club Team: NYC Gauchos. Laney formerly played with Philly Triple Threat.

USA U17 National Team, 2010 ... Gatorade state player of the year, 2010 ... Delaware state player of the year, 2010 ... first team all-state, 2010 ...

Recruiting update, August 19, 2010 -- Has scheduled home visits with Rutgers, Virginia, Duke, Kentucky, Oklahoma, Penn State and West Virginia, plans to schedule one with UConn.