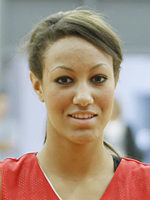 Lauren Evans
Guard
CLASS: 2012
Chandler, AZ

Hometown

Hamilton

High School
—

Overall Rank

40

Position Rank
ESPN Player Evaluations
Nike Nationals-July 11: Playing with much more confidence and maturity. Constantly looked to attack and create off the dribble as well as in transition from makes, misses and turnovers. Got deep in the paint time and again. Elevated well on the pull up and got a few to go from the 10 foot range. Occasionally seemed to be looking for her own shot more often than in the past but was still quick to give it up when a better look presented itself. Aggressive on ball but got caught overplaying a few times and left out of position. Lots of effort and awareness on the weakside. (Lewis)

West Coast Spring-May-11: Evans had her best outing to date. She had to carry her team at the guard position, both from a point guard/leadership role, as well as scoring the basketball. This is the most assertive we've seen her outside of her high school team. She has the ideal build and frame for a combo guard and has really become consistent with her mid-range game. Her length leads to a lot of tipped passes on defense too. Her team came up short in the championship game but for two days she was playing really good basketball. (Hansen)

Nike TOC-Dec. 10: The Nike Tournament of Champions usually offers up the opportunity to challenge yourself while facing competition from other parts of the country. Tuesday Lauren Evans and her teammates found themselves in a White Division semifinal matchup against cross-town Phoenix competition, Pinnacle High School.

The 6-0 guard wasted no time in establishing herself early as an offensive threat both in transition and the halfcourt. Her willingness to get out and run the lanes gave her the opportunity to create both penetration as well as pull up jumpers off early entry passes. She has the ability to get a defender out of her stance with effective shot and pass fakes as well as some aggressive individual ballhandling skills. On the drive the 2012 standout has the vision to see the floor as well as deliver the ball as opposing defenders rotate her way.

Despite a somewhat lean physical build Evans is willing to take it into traffic and occasionally can offer up some creative finishes. While the form on her perimeter shot appears sound and the results are efficient, the motion isn't yet that completely fluid stroke she'll need for consistency down the road. Defensively she's active and anticipates well off the ball. Additional physical strength and maturity should put her in the position to match up with bigger guards and wings at the next level. Evans is the kind of athlete that catches your eye with her play but catches your attention with her promise.

Nike Skills-May '10: Nice size and build on the perimeter. Her skills are advanced for her age and allow her to do a lot of things with the ball in her hands. She has good form on her shot as well as some range to keep defenders honest. She gets out in transition and is effective defensively. This summer is important in challenging her to take her game to the next level.

Nike Skills-May '09: Lauren Evans of Chandler, Ariz., was a little timid on the first day of the event, but seemed to get more comfortable as time went by. She is a very smooth player who has the size for the 2, but plays a ton of point guard in high school because she is a solid ballhander. Her quickness is deceptive at times because of how smooth she is, but playing in a more compact athletic position could really take her game to the next level because her quickness could become explosive. She didn't show the assertiveness we saw during the high school season where she carried Hamilton High School for stretches of games, but the framework is there for a nice combo guard with a natural feel for the game, if she finds her confidence.

TOC Dec. 08: Good speed in the open court. She has a solid fundamental base. She has a soft release on her jumper and good elevation on her pull-up. Her release is nice on her pull-up but when she shoots a set shot it is loose and incosistent which hurts her from the free throw line as well. Shows some leadership ability, played some point guard and shooting guard with very good size for either position. Athletically she very fluid with good change of pace. She has quick feet and operates from good athletic position. This is a player with a ton of tools and she's starting to use them already as a freshman.
Notes
Club Team: Cal Storm Team Taurasi