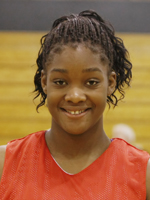 Therany Dunnigan
Forward
CLASS: 2011
South Euclid, OH

Hometown

Midpark

High School
—

Overall Rank

36

Position Rank
ESPN Player Evaluations
USJN DC-July 10: Still offering up flashes of the potential folks once saw but struggling to find the consistency in her play. She still has the prototype body for a power forward but doesn't seem quite sure how to use it at times. Needs to focus on the constants that can always be counted on, rebounding and defense. (Lewis)

Battle in the Boro-July 10: Dunnigan is showing flashes of the potential she did in the past but still not playing with the abandon that she once did. She's got the size and strength and is more than willing to mix things up. Her assertiveness offensively is more of the mindset to take what the defense gives her rather than something she can create. On the defensive end she'll put a body on her match up and can pull in some boards. Wait and see. (Lewis)

Nike Regional Skills-May 09:If you are in the market for a punishing forward, look no further than Therany Dunnigan. She plays physical, rebounds well, sets solid screens and will eat up defenders when left one-on-one on the boxes. Dunnigan is nearly 6-2 with wide shoulders and plenty of muscle. She is an ideal 4 because she has ample athleticism. Dunnigan brings all the elements coaches want in the paint. For this Ohio native, expanding her high-post passing and shooting could unlock her game offensively.

Clasic in the Country-Jan. 09: Regina Coach Pat Diulus has a long list of former players who have gone on to play at all levels. Therany Dunnigan already seems destined for that list and has the tools to choose what level she wants to play at. The 6-foot-2 forward not only has the size and build to play physical, she's willing to. Her effectiveness is not limited to the low post either as she is capable of driving from the elbows or even knocking down the 15-footer. The left hander's form is a work in progress but she's a threat already. Athletically her speed and quickness are going to set her apart from other post prospects.
Notes
Club Team:Sports City U