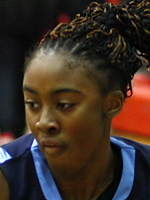 Raeshaun Gaffney
Guard
CLASS: 2012
Cincinnati, OH

Hometown

Fairfield Senior

High School
96

Overall Rank

35

Position Rank
ESPN Player Evaluations
USJN Toledo-May 11: Good athlete, strong/compact build - smaller height wise off the ball. Can get to the rim off the bounce. Not using counters to create. Two motion jumper, right-hand dominant (Clay)

USJN DC-July 10: Gaffney continues to go by defenders as if they're standing still. Her quickness and speed combine with sharp ballhandling to get into the paint time and again. Her floater isn't bad in traffic and the pull up is sound. Where she struggles is the spot up looks where she has time. The best way to guard her may well be not to. If she finds the consistent stroke and range to force defenders to play her honest she'll be an opponent's worst nightmare. (Lewis)

Battle of the Boro-July 10: Playing with one of the deepest rosters this summer, this athletic Fairfield, Ohio, resident is continuing to advance her game and her skills. A 5-8 guard, she constantly seems to get to the rim in both transition and the halfcourt. On the break, like the rest of her teammates, she's out and running and in the halfcourt her attack off the dribble is explosive and easily gets her past most on-ball defenders. There's no hesitancy to get into traffic and she's become adept at getting the roll on some creative shots or getting herself to the line. What's still in need of attention is her perimeter stroke and consistency. Ironically she's stronger off the mid-range pull-up than she is with the wide open look. The deeper spot up threat will have to be there or defenders will play off enough to negate her opportunity to drive. At the other end of the floor, she's a strong defender both on and off the ball and puts in the effort to come up with loose balls and rebounds. Her skills, athleticism and focus make her one to watch. (Lewis)

Nike Skills-May '10: Gaffney is one of the premier attendees at the NIKE Skills Academy-Chicago. An exciting perimeter performer with outstanding athletic ability. She plays taller than her listed 5 feet 8 due in large part to her long arms and superior leaping ability. She displayed great elevation on her jump shot and rebounded her position well. Her long arms give most ballhandlers problems and she finished in traffic better than anyone. She is a good passer to boot and has range to the arc but needs to be more consistent with her deep ball. A talented prospect.
Notes
Notes are not available.