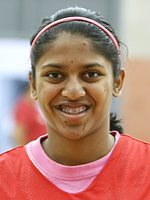 Shilpa Tummala
Guard
CLASS: 2012
Phoenix, AZ

Hometown

Saint Mary's

High School
69

Overall Rank

27

Position Rank
ESPN Player Evaluations
USAB U16 Trials-May 11: Looking much stronger physically and showing no hesitancy in using that strength. Passed the ball with sharp vision and delivered some quality assists in transition. However her own scoring seemed to desert her as she had trouble finding the range. The pull up went down but anything deeper took a detour from the rim. Unfortunately her shot selection suffered as she tried to shoot her way out of the slump. It's not an issue and Tummala is already a proven shooter in the eyes of college recruiters. (Lewis)

Nike TOC-Dec. 2010: Active and smooth. Can create some off the dribble but still upright to some degree on the drive. Seems to always be there in transition and slashes through traffic in the halfcourt as well. Effort is never an issue at either end. Quietly effective. (Lewis)

USJN DC-July 10: Lots of tools are evident, the question is to what degree and what level. Is demonstrating more and more possibilities against better competition but still finding what ultimately may be her potential at the next level. (Lewis)

Nike Skills-May '10: Textbook skills on the perimeter. Smart and effective ballhandler who makes good choices and takes care of the ball. She has good size and a solid build.

Nike TOC-Dec. 09: Wing with nice size and solid perimeter skills. Her stroke is out front with a forward motion but it isn't something difficult to correct. She's physically strong and comes to play on every possession. Lots of work to do but lots of possibilities as well. Keep watching.

Deep South Classic-April 09: Great body, especially for her age, or even not. Pursues the ball around the glass. Has nice 3-point stroke.
Notes
Club Team: Arizona Warriors