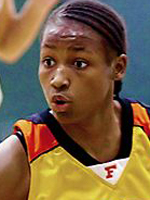 Kiana Johnson
Point Guard
CLASS: 2011
Chicago, IL

Hometown

Whitney Young

High School
55

Overall Rank

12

Position Rank
ESPN Player Evaluations
Run For Roses-July 10: She has improved all aspects of her game and proved that she has the mental and phyiscal tools to be successful at the next level. She is one the most exciting players in the class to watch, her ball handling skills are flashy and creative but are still extremely effective. (Bodine)

Midwest Showdown-May 10: This 5-5 point guard from the Chicago Lady Fire has firmly established herself as one of those small, ultra quick point guards that nobody want s to line up against. Over the past year Johnson has proved time and again that she has the individual ball skills, perimeter touch and range and athleticism to more than compensate for her slight size. In transition or penetrating she can create her own looks or distribute the ball to the many talented options on both her high school and club teams. Her passing skills are evolving even more now that she's become a known and respected scoring threat drawing additional attention from opponents. At the defensive end she may have an equal or even greater impact. On and off the ball she's active and aggressive. Combine that with the speed and anticipation she brings to the table and there's going to be turnovers leading to transition. (Lewis)

Nike Extravaganza-Feb. 09: If you simply knew that Whitney Young had a nationally ranked guard prospect at the point, you might think Johnson -- and not the injured Chanise Jenkins - were her. Like Jenkins, Johnson is small but just a blur with the basketball and can fill it up from long distance. She makes such an imprint on the game, you almost cannot believe she is just 5-1. Her crossover move is so quick, it is more of a defender-freezer than an ankle-breaker. It would, in other words, require a defender to have time to respond for her to break an ankle in response to this move. Johnson provides such perpetual motion, at both ends of the floor, it's dizzying to watch her. A college coach will have to be bought into playing a guard of such height, and perhaps have some means on the roster to compensate. Such a coach will be able to wield a pretty unique weapon in Johnson.

Braggin' Rights-Dec. 09: While last year's Illinois state runner-up Whitney Young may not have won the title, they may well have cornered the market on speed and quickness. On a team loaded with small, quick and aggressive guards, Johnson is beginning to stand out from the crowd. Creating scoring opportunities both on the perimeter and off penetration, the 5-6 junior is a difficult matchup for virtually any defender. Her ability to connect from long range forces tight spacing by opponents on the catch, which is the last thing you want to do against a player with her acceleration and attacking ability. Beyond being effective offensively, she is a key part of Young's stifling defensive pressure. Her quick feet allow her to turn almost any ballhandler and she gets a hand on any careless dribble put in front of her.

Showtime Nationals-July 09: Quick point guard with good vision.
Notes
Club Team: Lady Fire