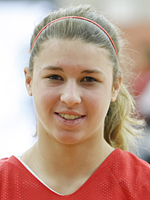 Hannah Huffman
Guard
CLASS: 2012
Concord, CA

Hometown

Carondelet

High School
52

Overall Rank

20

Position Rank
ESPN Player Evaluations
Nike TOC-Dec. 10: Solid build with impressive strength that she's more than willing to use. Utilizes textbook fundamentals to create her own looks as well as set up teammate's opportunities. Attacks smoothly with an effective hesitation move and can finish at the rim or with a short fallaway. Reads the floor well and makes good decisions. Has constantly advanced her game and can be an impact player in the right system. (Lewis)

End of the Trail-July 10: The Concord, Calif., resident handles the ball a lot for her club team and, at 5-9, could be a tempting fit at the point. Huffman looks sleeker since the fall and has a nice, strong build. The core of her game is a great pull-up jumper, on which she has great form and gets very good lift. That shot would be even more golden if she were a little shiftier with the ball because it would keep defenders even more off balance. Huffman will go left off the bounce and, like most jumper shooters, get squared for a launch that will, but improving the strength of her left-hand shots will improve the consistency of her finishes at the rim. She has good vision, especially for a player her age, but could use some more snap on swing and chest passes. (Howe)

WCP Spring Invitational-May 10: Skill never has been a questions when it comes to Huffman, but confidence has been. Sometime during her sophomore year, things clicked and she has become comfortable not just bringing the ball up as a point guard but in running a team. The 5-9 guard from Carondelet High School can lead her EBX team with her passing or put the scoring load on her back for stretches of game. She isn't the quickest or fastest but she has enough athleticism to play with elite guards. (Hansen)

EBX Showcase-Oct. '09: We always swear it's risky for players to assume they have an "on" switch, but then we see kids like Hannah Huffman of Diablo, Calif., the 5-9 Carondelet teammate of Erica Payne. It's not that Huffman doesn't play hard all the time, it's just that we've seen her spring to life late in games enough times to think it's not a coincidence. She certainly has the size and strength, as well as the skill set, to be a go-to player late in tight games. Huffman will surprise defenses off the dribble, powering her way into the kill zone and displaying good dexterity in getting her shot to the rim. She also owns a lethal companion skill -- a nice pull off the bounce, using her size and consistent release to tremendous advantage.

Deep South Classic-April '09: Good combination of size and strength. Seems in charge with the ball, makes plays. Has a nice looking shot, either catch-and-shoot or off pull.
Notes

Club Team: East Bay Xplosion

ESPN HoopGurlz Tip Sheet Mentions:
%u2022 Boo Williams--April 2011
%u2022  West Coast Premier Spring Invitational - May 2011