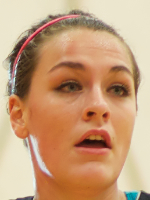 Rebecca Greenwell
Guard
CLASS: 2013
Owensboro, KY

Hometown

Owensboro Catholic

High School
6

Overall Rank

3

Position Rank
ESPN Player Evaluations
Boo Williams-April 12: There was very little evidence of a torn ACL with Greenwell. She was worried about being rusty, but if this was her version of rusty, rust has a new polished look about it. She shot the ball well and integrated well with new perimeter star teammate, Kaela Davis. Confidence, leadership, skills. She's back! (Hansen)

PBR Super 64-July 11: The depth and versatility in this 6-1 perimeter threat's game seems to expand every time out. From the high school season through the USA Basketball trials and now on the summer circuit she's establishing one of the most multi-faceted arsenals that defenders will have to face. She's creating looks off both the dribble and the cut while reading defenders with more confidence and maturity. Her demeanor on the floor is stoic and gives no hint of exhilaration or panic regardless of the time or score. Detailing her skills would be redundant with past evaluations but how she's now applying them is worth noting...again and again. (Lewis)

USA U16 Trials-May 11: Despite her jumper not falling early, Greenwell never showed her frustration. She compensated for it with scrappy play in other areas of the game. She rebounded well from the wings, got her hands on a lot of passes and pursued the ball consistently. As expected, her shot came around eventually and she showed why she is considered one of the top shooters in the country. Nothing spectacular but impressive nonetheless. (Hansen)

While her shots were not finding their way at her usual clip, Greenwell demonstrated a more versatile and attacking game than in the past. Her willingness and ability to put the ball on the floor has evolved into a legitimate threat that has to be respected by defenders. Add to that a good understanding of defensive rotations and sharp vision and she's improving opportunities for her teammates. There are still times the shot selection could use some additional thought but some of that may well have been out of frustration with the lid being on. What's really nice to see is her effective cutting off the ball. Whether off a screen or just a simple basket cut, she sets it up and she explodes into her first step. The defenses is improving and seems to have more of her attention but still could use some added focus. The maturity and confidence she's playing with is impressive and shows she's about to really come into her own. (Lewis)

She is letting the game come to her and making good decisions with the basketball. Finds ways to score even when double teamed. (Bodine)

Boo Williams - April '11: An often spectacular shooter, Greenwell displays accuracy from the 3-point line on in, either spotted up or off the pull. If crowded, she can put the ball on the floor with either hand and go into attack mode. Will make basketball plays. Her shooting is a reflection of focus plus leverage and strength, which overcomes her tendency to drift forward, as opposed to the classic, straight-up liftoff. Defensively and even on the glass, she can be a dizzying dervish. (Nelson)

Raatz Fence-Jan 11: Greenwell is going to attract a crowd whether it be defenders on the court or recruiters off the floor. If the ultimate respect an opponent can pay you is reflected in the attention you get from their defense, she's pretty much getting the utmost from everyone. Looking physically bigger and stronger, she's a threat any time she touches the ball, whether it's on the shot or off the dribble. She has the ability to attack with either hand and is playing with much more awareness of defenders as well as her teammates around her. The range and stroke speak for themselves, but the release is still out in front a bit and got one attempt blocked for her. Mercy pretty much eliminated every option for the 6-1 perimeter standout from the tip, racing to a 23-2 first-quarter lead and never looking back. She managed to finish the game with 24 points but only connected on 33 percent of her field-goal attempts and committed nine turnovers in the process. She did play the entire game and her teammates didn't do much to take the load off her shoulders. (Lewis)

Battle in the Boro-July 10: With the Flight missing some of their high profile players this 6-0 guard stepped up and demonstrated the maturity that has evolved in her game. Always an effective scorer, she's making better decisions with the ball and on her shot selection. When she puts it on the floor now it's to go to the rim or improve a pass. She's established herself as a threat that has to be paid attention to on the catch. Her contribution on the defensive end and on the glass were instrumental as well and provided evidence that a more complete game is falling into place. (Lewis)

Wildcat Classic-May 10: One of the true benefits of playing with a talented team like the Tennessee Flight is the opportunity to focus on skills and roles that are going to be part of a player's future at the college level. This 6-1 wing has already shown progress in the development of a greater depth and wider range of skills over the past school year and is showing even more with the start of the club season. Her ability to score the ball now comes off a variety of options, from the perimeter and on the drive. Her size makes her a tough matchup for smaller guards, but her ballhandling allows her to get around bigger opponents. She's reading defenders more often and making decisions, where in the past she's had her mind made up at times on what she was going to do. Her vision allows her to see the floor and take advantage of the teammates around her and not have to carry the scoring load as she does in high school. While she's added some height, she'll need to start adding some strength as well to mix it up more defensively and on the boards. (Lewis)

Nike Regional Skills Academy-May 10: Shooter who isn't the most athletic wing in the class but is very deceptive with her athleticism. She has tricky quickness and enough speed to play the game fast.

Raatz Fence-Jan. 10: If you're looking for versatility at the offensive end of the floor you don't need to look much further than this Owensboro Catholic guard. The combination of size, skills and an extraordinary shooting touch has allowed this 6-0 freshman to notch 1,000 points in her varsity career, which began back in the seventh grade. Already recognized as preeminent shooter, she's creating more off the dribble and showing a new versatility with the ball in her hands. Off the dribble she's much lower to the ground and can score taking it all the way to the rim or pulling up. Her ability to elevate on her shot gets her good looks at the rim. Defenses are focusing on her and she'll need to be more effective at finding better looks for her teammates to get a few more wins for the Lady Aces.


Notes
Club Team: Tennessee Flight Sophomores

Played varsity at Owensboro Catholic since the 7th grade.

2008-2009(Eighth Grade Season, 2nd year varsity): Averaged 18.2 points and 8.2 rebounds per game; Career Stats: 776 pts, 252 rebs.