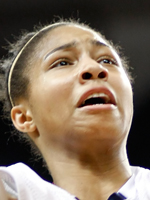 Isabelle Harrison
Forward
CLASS: 2011
Nashville, TN

Hometown

Hillsboro

High School
29

Overall Rank

11

Position Rank
ESPN Player Evaluations
Braggin' Rights-Dec. 10: Attacking much more and demonstrating why she's a #4 and not a back to the basket #5. Can put on the floor effectively both on halfcourt drives as well as in transition on occasion. Quicker and more decisive in her choices and looking for her own more often. Also was showing more verbal leadership on the floor and playing with more emotion than in the past. May just be taking a step forward to that next tier. (Lewis)

Turkey Jamm-Nov. 10: Hillsboro had two of the toughest matchups in Memphis, facing both No. 6 Potters House and No. 4 Bolingbrook. While the Burros came up short both nights, this 6-3 senior forward showed why she's headed to the University of Tennessee next year. Harrison, No. 29 prospect in the ESPNU HoopGurlz 100, seems to be playing with an increased confidence and seems more comfortable in a leadership role than she has in the past. She was vocal with her teammates and led the way in her play as well. After a particularly hard fall that took her out of the game, she returned and competed aggressively. Harrison is putting the ball on the floor effectively and creating a lot of her own scoring opportunities. Her ability to finish around the rim is more and more consistent and she playing at rim level. Additionally she demonstrated some wide receiver skills pulling in several passes that were launched well above her head. Hillsboro has only two seniors on the roster and continued elevated play by Harrison will be a key to the growth and success of the team. (Lewis)

Battle in the Boro-July 10: Harrison is stepping up her game and playing much more aggressive than she did at the USA Trials. Her active posting and willingness to get out and run the floor resulted in multiple wide open looks. On the catch she was quick to read and attack while demonstrating a nice short game in the five foot range. Her rebounding was critical in later games and the catalyst for finishing Flight's defense. She's still not the most physical player on the floor but certainly making an impact. (Lewis)

USA U17 Trials-June 10: The one thing that stood out about Harrison, the 6-2 forward from Tennessee, at the trials was her energy. She is long and athletic for the forward position and she was among the best in the trials at jumping passing lanes. We've become accustomed to seeing her go from coast-to-coast off a rebound or steal but with so much speed around her it forced her into some tough spots and resulted in turnovers in transition. She's a high motor player so it is difficult to ask her to slow her game down. In this setting she also found herself on the perimeter more than usual which exposed a forward motion in her shot that is keeping her from consistently knocking down the mid-range jumper. (Hansen)

Boo Williams-April 10: With all the star power on the perimeter for the Tennessee Flight, and an opponent that has the top interior defender in the country in Williams, it is hard to imagine a post player leading the charge for Tom Insell's squad. Enter Isabelle Harrison, a major talent who has garnered a spot in the ESPN HoopGurlz top 40 for the 2011 class, but is oft critiqued for inconsistent play.
With her team struggling to score, Harrison stepped up big time. The perimeter shots weren't falling and the 6-3 Harrison kept her team in the game by staying active. Most players get discouraged when Williams swats one of their shots into the fifth row, but Harrison played fearlessly. She did get a few shots checked but still kept coming. She was terrific on the offensive glass and even though strength is a limitation for her at this point she powered back up to the rim quickly and actually drew some fouls in doing so. Even more impressive was the improvement she showed with her back to the basket.
The highlight for Harrison was a sweeping right-handed hook shot over Williams that was starkly similar to the shot Tina Charles utilized against Brittney Griner during Connecticut's Final Four win over Baylor this year. Harrison blocked and altered her fair share of shots as well. Things are starting to click for her and as she gets stronger her game is only going to become more impactful. The challenge now, having proved to herself and her coaches she can perform against the best, is bringing that level of play to each and every contest.

Nike TOC-Dec. 09: In much better shape than a month ago and seems more comfortable playing without Lakeisha Crouch alongside her. Demonstrated some strong abilities to drive off the elbow or the baseline and finished well with contact. She's much more active and posting harder but still is a little bit soft when the pushing and shoving heats up. The perimeter shot is looking better but still should be that "keep them honest" tool that's used with discretion. Despite her size, she is best suited at the 4 and if she lines up along side a power post...things could get scary.

Turkey Jamm-Nov. 09: Hillsboro will be defending their 2009 Tennessee state title without the services of Xavier signee and ACL victim Lakeisha Crouch. The burden of the interior game will fall on the shoulders of ESPN HoopGurlz Super 60 selection Isabelle Harrison. The 6-3 forward showed tremendous progress over the summer and looked to be primed for a breakout season. Whether it's the loss of Crouch or just the early season jitters, Harrison struggled to settle into her game over the weekend. Her conditioning limited her ability to be effective at either end of the floor consistently and kept her from using her impressive mobility to its fullest extent. With her tremendous size and athleticism she has the tools to dominant down low as well as getting out and running in transition with the guards. She'll have to step up considerably more for Hillsboro to challenge for a trip back to the state tournament.
Notes
Club Team: Tenn. Flight

First team all state, 2010