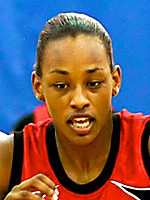 Bashaara Graves
Forward
CLASS: 2012
Clarksville, TN

Hometown

Clarksville

High School
5

Overall Rank

2

Position Rank
ESPN Player Evaluations
Strengths: Great rebounder who thrives on cleaning up the glass, versatile scorer in the post, college-ready frame, strength
Areas to improve: Perimeter skills, mid-range jumper consistency.
Bottom Line: The prototypical power forward, Graves is tough to deal with from 15 feet and in. She is gifted with a college ready frame and is not afraid of contact. She has become an elite offensive threat in the post and showed very well this summer against top competition at USA Basketball and on the summer circuit. Graves has learned to accept the double team and get the ball to open teammates. Despite already being one of the best in the class, she continues to improve noticeably.

Nike Nationals-July 11: Graves simply puts the "power" in power forward. Left one-on-one in the paint, she was going to score. Period. Defenses adjust to take-away shooters with face-guarding, or try to slow breakdown guards with help sagging into the gaps, but very few posts force you to do something in the post like Graves. (Hansen) ... Click here to read the full evaluation and tip sheet.

PBR Super 64-July 2011: As with other top tier players in the class, Graves is playing with a confidence and maturity that combines with her advanced skills to set her apart from the crowd. To say that she is a presence is an understatement. Both physically and skill wise she brings a college ready effort and game to the floor. The fluid explosiveness is not a contradiction in terms. She covers ground with such smooth and powerful movement that there is almost a grace to it. At the same time her willingness to battle and work for every shot and rebound brings a blue collar element to the action as well. There's still plenty to refine and work on but the folks in Knoxville have to love the point they'll be starting from. (Lewis)

EBA Super 64-June 11: Graves continues to show why she's among the best in the class. Her willingness to embrace and work in the drill situations the same way she plays in scrimmage settings makes a statement about her commitment to her game. Easily one of the most powerful and explosive athletes on the floor, she combines the physical tools with some well refined basketball skills to be effective at both ends. While the recent trend has been for elite level athletes to "plateau", Graves has shown constant and steady growth in her play over the years. Her success is no coincidence and a sign of even more to come at the next level. (Lewis)

Boo Williams-April 11: We can't blame Graves for her coach putting her in the roster packet at 6 feet 4. What's funny is that she doesn't need that kind of size to catch your attention. She is a dominant rebounder and as strong in the post as this class has to offer. What is great to see is that she can get busy and make an impact whether you run the offense through her or let her scrap and claw for offensive rebounds. She uses her body well on defense but there will be taller posts who will be able to score on her using length. Still love her versatility to get out and run too. (Hansen)

NAIC Southeast-Oct. 10: Still the poster child for aggressive power basketball. Graves ability to work around the rim with an explosive attack may be on a tier above anyone else at the high school level. Add to that an improving skill set on the perimeter and you've got your basic defensive nightmare. The ballhandling is putting her in a position to attack from the elbow and the pull up is turning into a reliable and consistent weapon. On the defensive end and on the glass she plays as if on a mission and isn't hesitant to mix things up. (Lewis)

Peach State-July 10: While some of her USA Basketball teammates got an extra night of rest before joining their club teams for Nike Nationals, Graves jumped back into action a day earlier in Augusta and looked surprisingly fresh. Aggressive and assertive with the ball, she came out and attacked from both the block and the high post. The authority with which she plays may well make the 6-2 forward from Clarksville, Tenn., the prototypical power forward in high school and club basketball. Ranked No. 2 in the 2012 class by ESPN HoopGurlz, she wasted no time demonstrating why her high regard is deserved. As the game wore on her effectiveness seemed to take a hit from some impressive opposing defensive attention as well as the toll of her long summer. At the same time there's no doubt about her impact anytime she takes the floor. Defensively and on the boards she's a dominant force as well as a physical intimidator. More versatility from the high post will make her an even greater challenge and allow her to utilize an impressive and very lengthy first step. (Lewis)

FIBA U17-July 10: Graves came on late after a rough start. Offensively, though she came up big on the glass in game two against Russia with nine rebounds in just 15 minutes of play. She didn't play poorly, but because she is primarily a power forward, she wasn't able to play multiple positions and compile minutes played. Early on she had trouble adjusting to the length of the defense. She made the adjustments needed to protect the ball better when around the basket and showed some mid-range skills as well. She showed her athleticism by getting eight steals in the tournament. Much like her front-court teammates, she struggled from the free-throw line, converting just six of her 18 attempts. Graves' best game was against Japan, one of the fastest paced games in the tournament, where she finished with 10 points, grabbed five rebounds, dealt out three assists and snatched two steals. (Hansen)

USA U17 Trials-June 10: Having been selected to the U16 team a year ago allowed Graves to come into the trials with experience and confidence in her role on the floor. Though she didn't have her best outing during the trials her fluid athleticism and versatility were evident. The length in the paint seemed to thwart some of the scoring spurts she is capable of. She is another player that would benefit from a more up-tempo style of play but found ways to contribute and ultimately make the team. (Hansen)

Wildcat Classic-May 10: Size, strength, quickness, speed -- you name it, and most likely you'll find it in Bashaara Graves. The 6-2 forward from the Drake Reed Basketball Club might be one of those players who have it all. While the physical attributes speak for themselves, it's her approach to the game that makes her that much more noticeable. Her aggressive and attacking play are something that a lot of athletes with size and strength fail to take advantage of. Graves runs the floor like a sprinter, posts up as if she's desperate for the ball, and attacks the rim as if her life is dependent on getting a good look. Add to that some refined skills and all the aforementioned physical characteristics, and you've got a prospect ideally suited for the college game already. Graves handled the ball on the break a couple of times and showed she wasn't uncomfortable doing so. She'll need to add consistency to her elbow and trail jumpers but the potential is there to become a threat up high. Defensively she works at things the same way and occasionally finds herself picking up an unnecessary foul or two but still establishing herself as a presence that opposing teams are well aware of inside. (Lewis)

USA U16 Trials-May 09: Bashaara Graves of Clarksville, Tenn., is much stronger than most other high school freshmen. The physical 6-2 forward isn't afraid to mix it up in the paint. She has all the athleticism to be a top player in the class. She has good timing coupled with very good leaping ability, which makes for a solid shot blocker. She caught some of the taller posts off guard quite a few times in that regard. She could improve her footwork on the interior and finish in traffic more consistently, both of which should occur over the next three years. Her performance was impressive enough that USA basketball asked her to stay and practice with the team in place of injured forward Morgan Tuck.
Notes
Club Team: Tennessee Flight Silver

Story Archive: ~ Hansen: Standouts from EBA All-American Camp -- Oct. 20, 2011