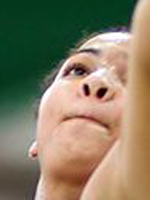 Kiah Stokes
Post
CLASS: 2011
Marion, IA

Hometown

Linn-Mar

High School
42

Overall Rank

5

Position Rank
ESPN Player Evaluations
USA U17 Trials-June 10: One of the returning players from last year's U16 team who had her ups and downs throughout the trials, Stokes often left you wanting more. All the physical tools are there and the potential is virtually limitless, but the inconsistency can be frustrating at times. At 6-3, her size and agility are difficult to match up with and her ability to run the floor makes her a challenge for opposing bigs. Inside, her play can be soft and she's often too reliant on her reach to post up rather than getting wide and low while establishing herself on the block. She showed flashes of explosiveness that, if used more often, could make her a more consistent scoring threat. Defensively the inclination to steer away from physical play limits her effectiveness as well. The tendency to settle in behind her matchup seems to be the result of not often lining up with players her own size. The Marion, Iowa standout is a solid performer on the boards and is quick on the outlet pass to start the break. Any limits she faces are ones she places on herself. (Lewis)

Boo Williams-April 10: The state of Iowa doesn't get a lot of love on the national scene but Stokes is doing her part to change that. She is the most ballyhooed prospect in recent memory from our nation's 29th state. Her physical attributes fit the mold that college coaches look for in their frontcourt players. She has length, smooth athleticism, and strength to play with the biggest and baddest. She has great bounce off the floor, making her one of the better rebounding posts in the class. With all this talent comes incredibly high expectations and consistency is still coming in her game. If she really pushes herself she could be an 18-point or better scorer on top of her rebounding exploits. (Hansen)

USA U16 Trials: Kiah Stokes didn'tcome into the trials with the reputation, nationally, that some of the other centers had but it didn't stop her from competing with them toe-to-toe. She is very light on her feet and extremely active on the glass and defensively. Every session her presence grew. The Marion, Ia., native can play either the 4 or 5 for this team. In the post she showed some of the best footwork in the trials. She just needs to figure out how to protect the ball when defenders are flying in to block her shot. She creates the shots and becoming a more consistent finisher will take her to the next level. She was impressive at this level and should be dominant in a typical club or high school setting.
Notes
Club Team: Team Iowa

Selected to U17 Youth Olympic Games team, 2010 ... Gatorade player of the year, 2010 ... Fourth team Parade All-American, 2010 ... First team all-state, 2010

Recruiting update, April 16, 2010: Considering Connecticut, Georgia, Maryland, Notre Dame, Purdue, Rutgers, Tennessee but is still open.