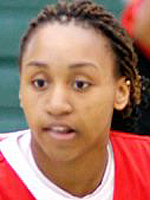 Ataijah Taylor
Point Guard
CLASS: 2013
Roanoke, VA

Hometown

Salem

High School
—

Overall Rank

38

Position Rank
ESPN Player Evaluations
Boo Williams-April 11: She is taller and more muscluar which allow her to play through contact when attacking the basket. (Bodine)

Deep South-April '10: Taylor seems to be a veteran of sorts as we have chronicled her game over the past three summers, although seasoned for years against older competition, she is still a relative puppy when it comes to actual high-school experience. Blessed with one of the most unique blends of power and explosion in the class, the 5-8 guard for the Virginia Hawks gives any would-be defenders fits when charging to the basket. An ambidextrous scorer from within 15 feet, she is one of those rare players who keep help-side defenders guessing with her ability to finish with either hand. She has developed as both a finisher and a passer. Taylor also seems to be comfortable without the ball in her hands, as she moves more freely to free up space for driving teammates. This shows a lot of maturity in her overall understanding of the game. Speed, power and understanding is a good recipe for success.
Notes
Nike Regional Skills Academy(Northeast), 2009.