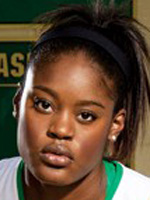 Kaela Davis
Guard
CLASS: 2013
Buford, GA

Hometown

Buford

High School
2

Overall Rank

1

Position Rank
ESPN Player Evaluations
USAB Trials-May 12: Davis, a 6-1 guard, was making her third trip to Colorado Springs, and she seemed comfortable from the get-go. As one of the more vocal and active players in the building, her presence stood out among the crowd. She also helped the players with less experience grasp the offensive concepts that the trial participants were expected to learn on the fly. While this wasn't the best offensive performance we have ever seen out of the former Tennessee verbal commitment, she found ways to make a positive impact on the game in a variety of other areas and, as a result, earned a coveted spot on the team. (Moore)

Boo Williams-April 12: With a new team, Davis looks like a different player. She isn't the primarily ballhandler and it is making a world of difference as her well-rounded skill set can be used coming off of screens or even in the high post at a forward position. She picks and chooses her spots to create offense for herself and really showed her smarts and passing ability when defenders keyed on her. Like any high-schooler trying to embrace the spotlight, there were some forced shots here and there but far fewer than in previous viewings. Given the few number of practices and all the new teammates this was an outstanding showing. (Hansen)

USAB U16 Trials-May 11: Having watched Davis for so long it's often hard to evaluate her game without being redundant. However, the trials afforded the multitalented swing player to demonstrate the confidence, maturity and versatility that just may set her apart from anyone else in the class. With or without the ball in her hands she's constantly in motion and is beginning to cut to not just get the ball but to create an opportunity. She's playing with much more patience and is just as content to deliver the assist when defenders rotate as she is to go up in traffic. The fact that she can, at times, play any spot #1 through #4 makes her a nightmare match up for opposing defenses and allows her to exploit almost any advantage. Defensively and on the boards she contributes with impact while not backing down from physical play. Her willingness to play every possession as if the game were on the line may be that intangible that separates her from the crowd. She's played well but it appears that she may just be scratching the surface. (Lewis)

All SE Invitational-Oct. 10: This may be one of the few times that Davis was not one of the most noticeable players on the floor. It wasn't that she played poorly but more that she seemed content to play more of a distributor role and create opportunities for her teammates in the unstructured setting rather than looking for her own. No doubt, she still got more than her share of good looks but she demonstrated and ability to impact play without having to be the go to player on the floor. The aggressive attack and explosive first step still were on display but the willingness and ability to read the floor seems to have advanced even with the tightest of defenders hanging on her arms. The size and vertical still dropped some jaws around the gym with some strong rebounding efforts as well as a couple of shots returned to sender. (Lewis)

Basketball on the Bayou July '10:For the past year, Davis and Diamond DeShields have been tied at the hip in discussions about the top prospects in an exciting 2013 class. Because DeShields is such an explosive athlete, and Davis had been such a great facilitator (playmaker), many assumed DeShields to be No. 1 and Davis at 2. Now that the two have parted as both club and high-school teammates, each can be seen in a different light -- one that turns the discussion into a full-scale debate. While DeShields became the better for learning the facilitator skills while growing with the USA U18 team, Davis became the unquestioned leader of a still very talented Ice team. Elevated to the status of go-to scorer, Davis embraced and excelled at the role, demonstrating a lot of Kobe-like qualities, from her long, low and slow crossover to her always-simmering competitiveness. Far more than just a thinker who sees the game from a much older player's perspective, Davis can be downright explosive when readying to launch, with a long, quick first step, ample handles and a smooth and explosive jumper. None of this came at a cost of leadership and playmaking qualities previously exhibited. Further increasing the degree of difficulty and wow factor, Davis showed all this with a broken bone in her left wrist. According to her parents, she refused to shut down her summer because of a sense of obligation to her teammates.

Nike Summer Showcase-July. 10: Hard to imagine that a player of Davis's caliber is still a work in progress but the growth and evolution is ongoing. Taking command of her team and being the go to player is a role that she's not just accepting but is embracing as well. The variety in her offensive repertoire is growing and defenders are left scratching their head looking for solutions. While she's an impact scorer she's also becoming an adept passer and her penetration is creating more and more assist opportunities for her. Defensively her size and athleticism allow her to match up with almost anyone #1 through #4 and she's finding her way to the boards on a consistent basis. The killer instinct that comes out when trailing or as a game comes down to the wire could stand to make an earlier appearance in games and eliminate some of the nail biting. (Lewis)

USA U17 Trials-June 10: The youngest participant in the trials was Kaela Davis, the standout 2013 guard from Georgia. She has been on the national scene for years now despite her youth and did not back down to the older more experienced players. She did, however, at times show her youth as she had the tendency to overpenetrate and put herself in compromising positions. She has size on the perimeter and it is the obvious advantage that she constantly will have throughout her prep career. She will need to use that size to make plays off the pass and not always to look to make them off the dribble. Her shooting needs more consistency, but it's nothing that repetition won't correct. You can expect a very bright future for this future Tennessee Lady Vol. (Powell)

Midwest Showdown-May 10: Davis seems more assertive and confident with the ball in her hands than she has in the past. Demonstrating the ability to play any spot on the perimeter, she's reading defenses better and making decisions based on what's in front of her rather than just what she wants to do. The 6-2 Georgia Ice guard's one-on-one skills and ability to create her own looks are evolving into the kind of weapons that will force opponents to look at going zone to get some stops. While her form is solid and fundamental the consistency has still got to come along to force closeouts in man or zone and allow her to go to work with the ball in her hands. Defensively Davis offers just as much firepower as she does at the offensive end of the floor. With her size, mobility and reach she can disrupt opposing backcourts baseline to baseline. Kobe has been first team NBA All Defensive squad seven of the past 10 years and Jordan made it nine times in his career and there's no reason Davis can't have that same kind of presence either. (Lewis)

Nike Regional Skills-May 09: No matter how many times we see Davis it is still baffling that she's just finishing her freshman year. She takes everything in stride. She is a quick learner with a competitive way about her so matching her up against other top prospects only brings the best out of her. She isn't afraid of contact when attacking off the dribble but getting more compact would make her even more explosive and allow her to play through even more contact.

Nike TOC-Dec. 09: Davis continues to impress as one of the standouts in an already noteworthy 2013 class. The well noted combination of size, athleticism and skills has coaches wishing there was early entry to the college level. Her fluid movement and confidence with the ball in her hands should put her in the position to advance her game even further. She'll need to be a little more assertive offensively and look to not simply settle for what the defense gives her. She has the ability to create but didn't display it as often in Phoenix as she has in the past. The jumper is there but needs to be a consistent threat and a strategic weapon rather than "settle for" answer. Her defensive potential could be what might really set her apart from the crowd. When she chooses to get into a stance and lock up her opponent not many players at any level can get by her or make any pass but one of desperation.

Nike Regional Skills Academy-April 09: It may just be simpler to list what Kaela Davis might be missing rather than to try and explain the tools and potential that are making college recruiters drool over someone who has yet to put on a varsity uniform. When you consider she has the size, build and athleticism of someone several years older and a skill set that makes the 6-2 Georgia resident a true perimeter threat, it's hard to imagine just what might be missing. Experience, maturity and maybe some physical strength come to mind but you have to figure some of that will simply come with age. In the meantime consistency on her perimeter shot will have to evolve as well the commitment to be just as effective on the defensive end as she is offensively. Scary part there is that she's already a pretty good defender. Keep watching; it's going to fun.

Boo Williams-April 09: Kaela Davis, 6-2 player for the GA Ice, is the big guard that every coach dreams about. With wide shoulders, a sturdy frame and huge wingspan she reminds you of a young Nikki Teasley. A great ballhandler in traffic, she doesn't rush, she keeps her head up and sees the floor; for smaller guards it is almost impossible to get a defensive attack angle on her. On the defensive end she is very active, anticipates, plays the passing lane and can get steals at will because of her length. Obviously, with any young player, focus on fundamentals is important and she will need to develop a consistent outside shot to round out her already-impressive skill set.
Notes

Read more on Kaela Davis: Illness forces Davis to take a timeout
Club Team: Georgia Ice