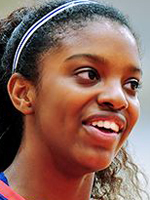 Diamond DeShields
Wing
CLASS: 2013
Norcross, GA

Hometown

Norcross

High School
3

Overall Rank

1

Position Rank
ESPN Player Evaluations
USAB Trials-May 12: When you walk into the gym for a USA Basketball trial with multiple gold medals sitting in your room at home, there is a very clear comfort level in the process and the demands of what it takes to start the path toward earning another medal. By the third session, the 6-2 DeShields was in her element. Her athleticism and ability to make plays that others simply can't was at times jaw-dropping, and even when there are other elite players on the court, DeShields was able to take her game to another level. Going in, it was hard to envision a USA U17 team without her on the roster, but DeShields was able to leave no doubt about her worthiness for a roster spot with her play throughout trials. (Moore)

Showed she has clearly practiced shooting from the longer international arc. In the first two days she was possibly the most consistent 3-point shooter. She showed the fire to play both ends of the floor we have questioned on the club circuit in the past. She seems more comfortable leading here too. All in all an impressive first two days for a player who has a high bar in the first place. (Hansen)

Boo Williams-April 12: Downright explosive and at times unstoppable, but we already knew that. What stands out is a continued improvement in her perimeter shooting, which combined with her explosive first step makes for a killer combo. She was actively trying to lead, an important part of the game for a player of this stature. She can really make her team go but would still like to see her lead when she's not scoring the ball well. Good progress heading into USA Trials, where she will finally be playing with her own age group. (Hansen)

Starr's Mill/Kay Yow GNO-Jan. 11: Superior athlete with total package, athletic build, great leaper, saw her knock down the midrange and 3-point shot, can attack and finish at the rim, able to find the basket in mid-air on shots, good rebounder, runs the floor like a cheetah on the prowl, good handles, good passer. Picked up several silly fouls, must tone that down. But otherwise WOW. She will make some program very very happy. (Beverly)

NAIC Southeast-Oct. 10: It's hard to imagine that she can continually advance and elevate her game but each time out she seems to find a new level. Her patience and decision making with the ball is making her an even more difficult match up than she already was. The explosive first step and the elevation are something that few defenders can counter. The consistency on the jumper and the pull up is coming and forcing close outs on the catch anywhere on the floor. What's even more noticeable is that DeShields is having fun out there which in turn allows her to play relaxed and at her best. The confidence she's playing with is well placed and seemingly in perspective. Something rare among players of her caliber. (Lewis)

Battle For The Boro-July 10: There comes a point where you begin to run out of adjectives to describe a player. It's scary when that time is before she enters her sophomore year in high school. DeShields is becoming a more complete player each time out and making the players around her better in the process. While she can take over a game and be dominant with the ball in her hands, she's creating and recognizing her teammates options that are a result of the defensive attention coming her way. In tight games she's stepping up and making plays not only offensively but on the boards and at the defensive end as well. The fact that she continues to advance her game makes you wonder just how far she might just take her game. Keep watching. (Lewis)

Midwest Showdown-May 10: DeShields may have switched her uniform to that of the Georgia Pistols but the talent and potential are still the same for the guard/forward combo. Physically and athletically she may well exceed any player in the 2013 class and her individual skills continue to close in on that elite level as well. At the same time it was obvious that she was feeling her way in a new setting and struggled a bit to find her comfort zone. There were times that some frustration showed on her face both on the floor and on the bench. Her ability off the dribble is explosive and she can elevate over virtually anyone that might line up opposite her. While some of her most eye catching performances have been around the rim the opportunity to really take advantage of her game is going to be on the perimeter. When given space though the jumper seemed to need some elevation of its own after seeing the front of the rim on several occasions. With the capacity to play almost any position on the floor she may be the most diversely talented player on the horizon and the spotlight is going to be on every night. (Lewis)

Nike TOC-Dec. 09: How does an already high profile athlete have a coming out party? You play like Diamond Deshields did in the TOC in Phoenix. Already regarded as an elite prospect by virtually anyone who has seen her play, she demonstrated that she may just be something special among the elite. Her play, both skill wise and physically, captivated fans, coaches and opponents alike. She's effective with the ball in her hands, in transition and even went to work on the block on occasion. Her size and athleticism are already well documented but some of the physical plays she made would have made the FAA take a close look. Her ability to elevate seems to be reaching new heights and what's more impressive is that she's under control and making plays. She may well be the Candace Parker sequel, but this one has the potential to be better than the original.

Nike Regional Skills Academy-April 09: Diamond DeShields can be as good as she wants to be-- period. While just now completing the eighth grade, the 6-2 standout for the Georgia Ice already possesses the attributes that will allow her to take her game to any level if she's willing to pay the price. The physical gifts and the basketball skills are there but it's hard to see the focus yet in a player so young. The consistency of effort and intensity will be keys for her each time she takes the floor in both workouts and games. She has a crossover that would make Kobe proud with the ability to get into the paint as well as the stroke to connect from the perimeter. Her size and foot speed make her potentially a lethal defender matched up in man or especially in the press. If she pushes the limit it could be something to see.

Boo Williams-April 09: Watching Diamond DeShields of the GA Ice play basketball can only whet ones appetite for what is to come from this superbly talented 8th grader. At 6-2 she has a great athletic build that allows her make plays that many high school players cannot. She displays nice shooting fundamentals and excellent ballhandling skills. DeShields can get to the basket with one dribble from the foul line and her hand is at the rim when she releases the ball for a layup. As she matures and develops she will have to understand how to stay focused on every possession. With consistent focus, she has the potential to be one of the top players in the 2013 class.
Notes
Club Team: Georgia Pistols
formerly played for the Georgia Ice in 2009