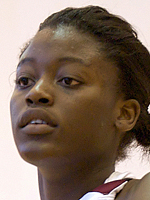 Temi Fagbenle
Forward
CLASS: 2011
London, England, EUR

Hometown

Blair Academy

High School
13

Overall Rank

5

Position Rank
ESPN Player Evaluations
Boo Williams-April 10: The advancements in her game have really taken her to another level. All the physical tools we've seen in the past are there but now she uses them with much more confidence and a deeper set of skills to call upon. There's also an even greater assertiveness that adds to the approach she already took. Active would be an understatement in describing her play and her impact is at both ends of the floor. She can create from the elbow or post up effectively on the block. A constant threat from 15 feet would be a nice addition to keep defenders honest.

Summer Showcase-July 09: The Philadelphia Belles-Flynn squad made it to the Showcase for just two exhibition games, but it took just one for Temi Fagbenle to make an impression. The Blair Academy star stands 6-3 and has a long, lean build that causes major matchup issues. She has a great face-up game and when she gets on a roll she can completely take over and carry a team. The London, Eng., native scores with both hands in close and showed she could hit the 8-foot, face-up shot too. She complements her scoring ability with some nice interior passes when defenses start doubling her. She can pull a rebound off the rim and advance it in transition herself. Defensively, she blocks a lot of shots and changes plenty more.

Boo Williams-April 09: Prospect is very raw, still developing, showed some high post jump shot ability, not much body control or balance. Improving in those areas will make her much more effective inside.
Notes
Club Team: Philly Belles

Played for the English national team that placed eighth in the FIBA Europe contest in Romania, 2010.