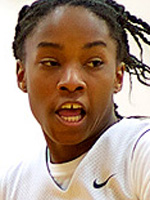 Lindsay Allen
Point Guard
CLASS: 2013
Mitchellville, MD

Hometown

Saint Johns College

High School
25

Overall Rank

5

Position Rank
ESPN Player Evaluations
USAB Trials-May 12: Allen, a Notre Dame recruit, has the rare ability to be a calming influence. The 5-foot-6 point guard has mastered the ability to play in transition and set up in the halfcourt to get her team a quality look at the basket, but it is her ability to never get rattled that probably earned her a spot on the U17 world championship team roster. At some point during its trip overseas, this U17 team will face adversity. Things won't go according to plan, and the players will have to respond to a challenge. Having a calming influence at the point guard position is a step toward handling a challenge with the correct response. (Moore)

Beast of the East-Dec. 11: Smooth handle, good with the counter. Slender frame. Gets to the lane off the bounce. Right hand dominant. Hitch in her jumper, keeps her from being a consistent shooter. (Clay)

USAB U16 Trials-May 11: Impressive effort among a deep pool of talent. Very effective with the ball in her hands both in the halfcourt as well as on the break. She's seeing the entire floor and making sound decisions with the ball. Has the ability to penetrate and make things happen. The floater was there for her a couple of times and she was more than willing to take a hit and go to the line. Her interior passing could use some refinement to be more consistent in where her teammates receive the ball. On ball she's a wiry and aggressive defender that will take away options from her match up. Best thing is that she seemed to get better and advance her play throughout the event. Keep watching. (Lewis)

Deep South Classic-April 11: Lean, athletic guard who is playing with tremendous confidence. Creating off the dribble and finishing as well as distributing the ball. Had trouble finishing early but warmed up and became a threat from pull ups and floaters. Aggressive on ball defender with quick hands and the ability to turn opposing ballhandlers. (Lewis)

Winter 2010-11: She has a firm grasp on the intangibles need to be a major DI point guard. She knows how to set up her teammates for shots and dictate the pace and tempo of the game. Her shot selection is excellent and she can create from anywhere on the floor. Allen is a consument leader and it is evident that her coach and teammate trust her as their floor general (Bodine)

Deep South Classic-April 10: She has an excellent set of point guard skills, she handles the ball with confidence and understands how to attack the middle of the defense. Her jump shot needs to improve but overall she has a nice upside.


Notes
Club Team: Team Unique