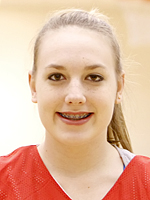 Merritt Hempe
Forward
CLASS: 2012
Falmouth, VA

Hometown

Stafford

High School
—

Overall Rank

23

Position Rank
ESPN Player Evaluations
Nike Nationals-July 11: Looking better conditioned and playing more assertive. Got out and ran the floor on the break and was effective shooting the 15 foot trail shot. Not really creating her own looks but finishing more consistently with the opportunities that come her way. Can work down on the block but is more suited as a forward than a back to the basket threat. Lateral speed defensively will be a question mark some of the lean, quick forwards she'll line up with in the SEC. (Lewis)

WCP Spring-May 11: Has grown an inch or so making her a legitimate center prospect. Just does whatever needs to be done. Will finish around the basket, defend on the block. Length lets her defend trail 3 shooting post players out to the three point line. (Clay)

Nike Nationals-July 10: Playing time diminished with some returning USA players but the moments were still there. Her post moves are somewhat mechanical but the touch and range are coming along and give her a diverse attack. Fluid and more reactionary play will need to come but the work ethic and willingness appears to be there. (Lewis)

USJN DC-July 10: Looking more fit and in better condition than this spring. This smart and fundamental forward makes plays in a methodical but effective manner. She reads defenders well on the catch and generally sees the floor with good vision. Her shot selection at times looked a little self serving but she knocked down several including an impressive fall away. She's got nice size and strength but might be challenged in the footspeed department on the defensive end. (Lewis)

Showtime Nationals-July 09: nice face-up player; can play with back to basket as well; nice left handed hook; really good offensive skill set; aggressive with very good size.

Nike Regional Skills Academy-May 09: Forward Merritt Hempe of Stafford High School (Va.) and Team Unique stands 6-3 with her shoes on and has the skills to get the job done on the block, in the high post or in a four-out set. She can put the ball on the floor and create her own looks or utilize her good stroke with solid range. Her mobility stands out on cuts in the half court or in transition, ultimately forcing difficult matchups for opposing defenses. She's active and aggressive on the boards and will become an even greater rebounding force with added strength. Speed may be a slight question mark, but with her size and length she can more than compensate against quicker pairings defensively.
Notes
Club Team: Team Unique